Fairs, festivals and events in Baix Llobregat
Outstanding events take place throughout the year in Baix Llobregat, a region with a deep-rooted festival and scenic tradition, which fills its calendar with events. There are world-class theater and music fairs and festivals, and popular cultural events for all tastes that attract a large audience.
Numerous fairs keep the region's agricultural past and present alive. For example, the Immaculate Conception Fair, inSant Boi de Llobregat, and the Candelaria Fair, in Molins de Rei -declared a Traditional Festival of National Interest-, which fill the streets of the respective cities with commercial, gastronomic, recreational and cultural activity, or L'Exposició Nacional de Roses, or the Sant Feliu de Llobregat Roses National Exhibition in 1928.
So do the various annual events specifically dedicated to local food products, such as the Gavà Asparagus Fair; those of cherries from Papiol, Sant Climent de Llobregat, Santa Coloma de Cervelló and Torrelles de Llobregat; the Prat de Llobregat andSant Boi de Llobregat Artichoke Festivals, the Begues Craft Beer Fair, or the Prat del Prat de Llobregat Poultry Fair. Also noteworthy in this field of gastronomy are the Castelldefels Cooking Show, the Sant Vicenç dels Horts International Pastry Show and the Abrera Porrons Gastronomic Fair.
Musical and theater events of international prestige have been gaining prominence in recent years. These are the cases of the International Clown Festival, in Cornellà de Llobregat; the Street Theater and Animation Festival, in Viladecans; the Altavoz Music Festival, in Sant Boi de Llobrega t; the Horror Film Festival, in Moulins de Rei; from the Gong Festival, to Collbató; Esperanzah, in El Prat de Llobregat, or PAS, in Martorell.
In the same way, they have managed to preserve quite a few popular manifestations of a scenic nature, such as the Living Nativity Scene of Corbera de Llobregat, the Passions of Olesa de Montserrat and Esparreguera, and the Modernism Fair of Colonia Güell, in Santa Coloma de Cervelló. In all cases, they are proposals developed and interpreted by the residents themselves.
There are also festivals with historical roots, such as the Ludi Rubricati-Roman Festival, in Sant Boi de Llobregat; the Fiestas del Mar, in Castelldefels, which commemorates the pirate landings on the coasts of the region; the Fiesta de los Migueletes, in Olesa de Montserrat, in which the town becomes the scene of the War of Succession, and an event as usual as the Immersion Hall, in Cornellà de Llobregat, aimed at lovers of scuba diving.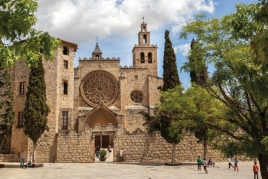 02/12/2023 ...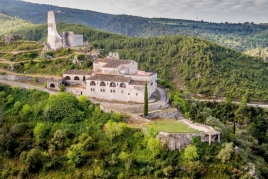 02/12/2023 ...