Province:
Barcelona |
Shire:
Baix Llobregat
|
Inhabitants:
24.272 |
Extension:
16,6 Km2 |
Altitude:
124 m
Located in one of the most unique and symbolic places in all of Catalonia, at the foot of Montserrat Mountain, the town of Olesa breathes tradition and culture in an environment rich in heritage and landscape. We discovered the Clock Tower, the hermitage of San Salvador de las Espadas, the Ribes Blaves area of high geological value because you can see a fault between 400 and 450 million years old and two references of the medieval legacy: the hermitage and the castle of San Pedro Sacama and the site of Mas Vilar.
Olesa de Montserrat has marked agricultural roots: the cultivation of the Palomar or Olesana variety olive trees stands out, from which its famous oil known throughout the world is extracted.
This municipality is also characterized by the theatrical performance of La Pasión.
Places to visit
City hall
Parish Archive
Santa Oliva Library
House of Culture
Convent of the Piarist Mothers and Chamber of Santa Paula Montal
Puigventós Nature Space
The Olesana Dry Stone Shed
Memorial 158
Olesa Organ
Ribes Blaves
San Pedro Sacama
San Salvador de las Espases
Passion Theater
clock tower
Viewpoint of the Coll de las Espases
Oil mill
Gate and Chapel of Santa Oliva
Areny del Molí picnic area: Recreation area with barbecue and tables, located to the south of the municipality, next to the Llobregat river. The use of this area is public and free.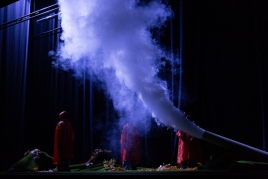 28/09/2023 - 01/10/2023

Weather forecast
01-10-2023
Morning
Evening
Max 28º
Min 20º
02-10-2023
Morning
Evening
Max 27º
Min 19º