Province:
Barcelona |
Shire:
Baix Llobregat
|
Inhabitants:
65.030 |
Extension:
31,4 Km2 |
Altitude:
8 m
El Prat de Llobregat is a municipality in the Baix Llobregat region, which is part of the Barcelona metropolitan area.
The beginnings of El Prat de Llobregat were late, since it was not until the 17th century that houses began to be installed around a square. All of this was prompted by the opening of a butcher's shop at a crossroads, which led to the construction of a parish church and a hostel, which in turn brought artisans to the area. They decide to organize themselves into two rows of houses, which will make it the main street, the only one for a long time in El Prat de Llobregat.
The fact of being able to connect the population with Barcelona through a boat trip made El Prat de Llobregat an interesting place due to its location. However, during the 19th century the population grew, above all, thanks to farmers and the laborers they hired and artisans. But with the construction of a bridge that crossed the river and the arrival of the railway, everything changes.
In the 20th century, El Prat de Llobregat expanded. Agriculture is affected by the arrival of industry and aviation, which also meant the massive arrival of population. This led to several problems, such as the lack of housing or places in schools or sewerage. All in all, El Prat de Llobregat was able to resolve these aspects and evolve. So much so, that within its term we find one of the most important elements of the Catalan territory: El Prat airport.
Likewise, in El Prat de Llobregat we find other elements such as the Marconi telegraph station, the work of the modernist architect Puig i Cadafalch, the Silk School, the Torre Muntadas or the Municipal Market, in the noucentista style.
In addition, El Prat de Llobregat is recognized throughout the territory for its native breed of roosters and hens and potablava chickens.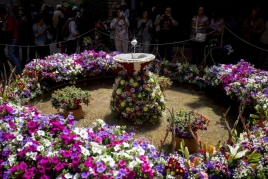 08/06/2023 - 11/06/2023

Weather forecast
11-06-2023
Morning
Evening
Max 27º
Min 18º
12-06-2023
Morning
Evening
Max 28º
Min 18º