Route from the porch of Santa Oliva to Sant Salvador de les Espases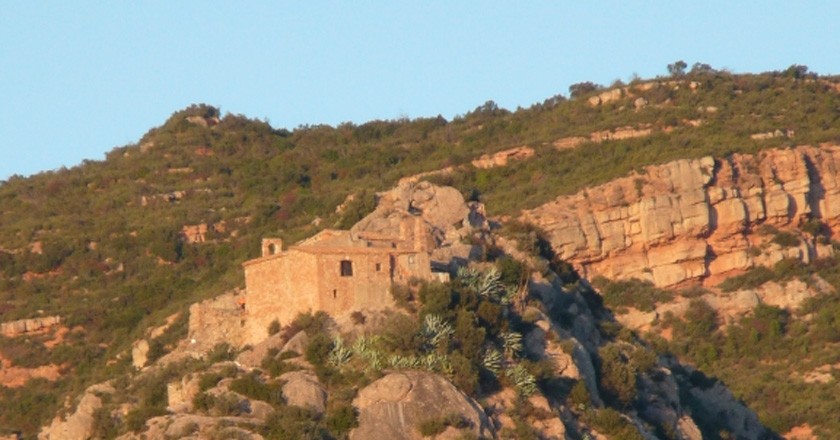 This is one of the busiest and most popular itineraries in Olesa de Montserrat. It starts in the old town and ends on a historic hill. Every year on the first Sunday of September, many people follow him to celebrate the great meeting.
The itinerary begins to the north of the old town, in the porch of Santa Oliva and we will continue towards the mountain passing over the Parque del Porche de Santa Oliva and next to the street of Mestre Joan Llongueras. Immediately we will find a crossroads, we will continue straight on a path that goes up in a northerly direction (1 minute). We enter the urbanization of Les Planes (4 minutes), we will pass by the left side of a park and we will take Calle de la Vall d'Aran in a northerly direction.
We will leave this street and take Occitania street; to the right we will see a field where they practice archery. We will take Carrer del Bages and later we will turn right to take Carrer del Urgell. At that moment we will pass next to the municipal swimming pool and the Salvador Boada sports center (1.1 km). We will enter a forest track. One hundred meters ahead, we will find a fork (14 minutes): the path to the left goes to Cruz de Beca and the path to the right leads to Sant Salvador de las Espadas.
We will continue to the right and we will find some deposits of the Olesana Mining Community (17 minutes - 1.5 km). The path begins to climb to overcome the unevenness. We will go through a cut in the mountain (20 minutes), just above, to our left, we will find some thousand-year-old olive trees. We will follow the forest track and find a paved section (23 minutes). Further on, we will find an oak and a wooden railing from where we can see the town of Olesa, Esparreguera and its urbanizations (27 minutes - 2.8 km). We will continue climbing and we will see how Montserrat peeks out from behind the mountains to the west.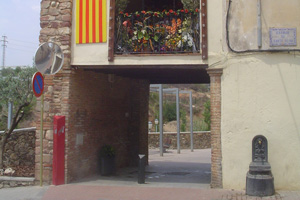 After a few minutes, we will find the Puigcendrós mountain in front of us and we will enter the Territori i Paisatge Foundation estate, where we will be able to see a couple of signs indicating the entrance to the enclosure. Following the forest track and after a few minutes we will find a chained track to our right that goes up to the Puigventós farmhouse and to the left, the Roureda spring below our path (42 minutes - 3.5 km). We will pass under the Roureda forest (3.6 km); It is very curious, since oak groves tend to live at higher altitudes.
We will continue along a steep slope and we will find an old indicator post (50 minutes). We will continue along the path and suddenly we will see signs of Triassic materials, such as Buntsandstein or Muschelkalk. Next, we will arrive at the Collado de les Espases, where there is a leisure space with tables and, in addition, we will be able to enjoy a great panoramic view of the surroundings of Montserrat and we will see our destination, Sant Salvador de les Espases (53 minutes).
We will arrive at Pla del Fideuer (1 hour and 2 minutes – 5.2 km), and we will enter the municipality of Vacarisses. In the plan we can find a great variety of paths. Among others, we will find two roads together: one that leads to San Pedro Sacama (right) and another to San Salvador (left). Following that of Sant Salvador, a fairly rocky path will begin until we reach the pass of Sant Bernat de Menton (1 hour and 12 minutes - 5.7 km) where we will see great views of Montserrat, Sant Llorenç de Munt and Obac and the surroundings of the Trustee's plan.
From here we will go to the shade until Sant Salvador. After this pass we will go down the north face between the vegetation and after a few minutes we will arrive at Pla de les Carboneres (1 hour and 15 minutes - 6 km). From there we will see Sant Salvador, we will continue down a descent that is to the west and after 50 meters we will find some stairs to the left (1 hour and 18 minutes) and a signposted path to the right that goes to the Hospice hill (itinerary 16). We will go down the stairs on the left, then we will pass through the shady forest of Roques del Afrau. Finally, you will have to climb the last section through some steps between the rocks. At the top will be the hermitage of Sant Salvador (1 hour and 25 minutes - 6.8 km).