Staying in Banyoles has a prize!
"Staying in Banyoles has a reward" is a new discount voucher campaign to promote accommodation in the city of Banyoles. In this second edition, the number of discounts on activities and services that can be done in the city, for people who stay overnight in accommodation establishments in Banyoles, is increased.
With the promotion "Staying in Banyoles has a prize!" Enjoy a stay full of experiences, activities and cultural visits at a discount!
Several companies offer you special prices on their activities. In this way, renting a bicycle, taking a boat ride, going with the Pinxo Train, rowing with a Dragon Boat, entering the Darder Museum or signing up for guided tours will be easier for you.
You will surely find the activities that interest you the most among the 18 proposals that make up the promotion!
The mechanics to get your discount coupons is very easy:
Book accommodation in Banyoles.
Fill out the form that you will find by clicking on "open the link" and you will receive the discounts to be able to book the activities you want to do during your stay.
Ask for the original coupons at your accommodation.
Present the discount coupons with the accommodation stamp or at check-in to benefit from the promotional prices.
And to enjoy!
Also, if you share your photos doing 3 activities included in the promotion on your social networks with the hashtags #debanyoles and #banyolestepremi, stop by the Banyoles Tourist Office and pick up a gift!
Now, your holidays in Banyoles have a double prize!
07/10/2023 ...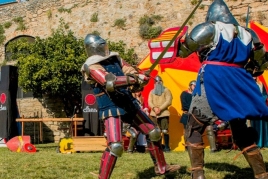 06/10/2023 - 08/10/2023