MónNatura Delta de l'Ebre Amposta
Polígon 78, parcel•la 7 Carretera del Poblenou a les Salines, s/n
Amposta
Contact
info@monnaturadelta.com
MónNatura Delta de l'Ebre, located in the Montsià region, allows you to discover a natural environment of great wealth in one of the most important wetlands in Western Europe. Land and water come together in this language and create a suitable setting for the concentration of a unique and varied fauna, especially waterfowl, internationally recognized.
One of the spaces found within MónNatura are the salt pans, recreated to scale. The salt pans are artificial pools (or built by humans) where the sea water evaporates thanks to the effect of the sun and the wind, with the aim of obtaining common salt.
Very close to the Delta Space is a facility that houses one of the best viewpoints in the area, a 360º view of the Delta to enjoy an unbeatable setting and meet a wide variety of birds: especially the families of flamingos, and the environment of the center (the lagoon of La Tancada and the old salt flats of Sant Antoni).
We also find the jetty area, which opens a space for learning about and practicing fishing activities. In this area there is a sample of different traditional fishing instruments and tools in the Ebro Delta, the so-called fishing gear, such as the esparavel, the gánguil, the bussó, the banarreta and the trasmallo. In this area you can practice another typical activity of the Delta, the hanger.
MónNatura Delta offers visitors various guided tours to get to know the center: the "Veigues qué Delta!" guided tour, the tour dedicated to the little ones "The visit of the little ones", and a new gastronomic tour "Tastetd'un Delta" ( Taste the Delta). And a series of weekly family activities that bring the little ones closer to the world of the delta through original, creative and manual workshops, as well as observation activities aimed at ornithologists or people interested in photography and ornithology that can always be done under petition.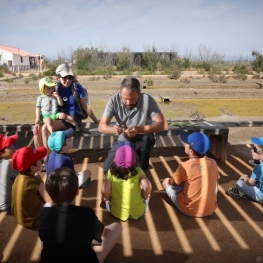 MónNatura Delta de l'Ebre Amposta
This family visit is designed so that the youngest members of the family can enjoy the surroundings of MónNatura Delta, while discovering the richness of…