Megalithic and dry stone itinerary I in Roses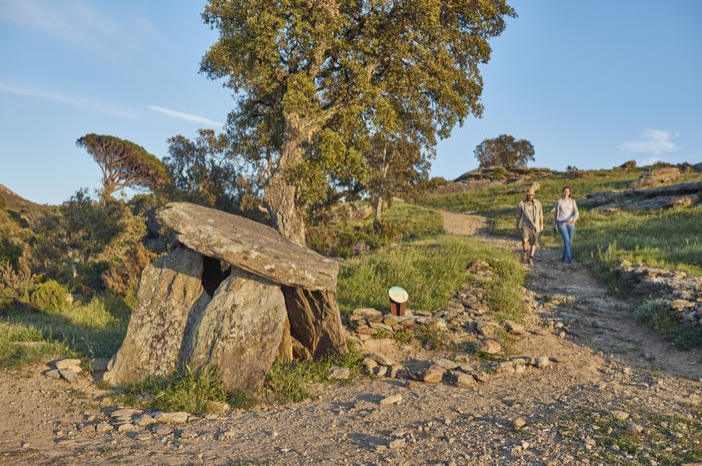 This circular route within the Cabo de Creus Natural Park surprises us with the visit to different prehistoric funerary spaces and cultural expressions from the Neolithic era of the peasant communities that lived in the area of the Casa Cremada plain. It also highlights the presence of dry stone constructions, a heritage generated from the agricultural work of the environment that can be seen in the morphology of the landscape.
Difficulty: Easy
Distance: 4.40 kilometers
Time: 1 hour and 20 minutes
Elevation: 166 meters
We start the route going up some beautiful dry stone margins. Halfway up the climb we will be surprised by the first megalithic element, the Cruz de Corbetella dolmen, which rests right next to the rubble of the farmhouse with the same name.
Just past the ruins of the Casa Cremada we will find one of the menhirs in the area. We will follow the path to Casa Cremada, passing through the Guilla burrow and climbing the next ridge, Cabo del Hombre, where we can visit the dolmens of Cama de la Generala and Cabo del Hombre.
Surrounded by dry stone, we will enter the area of the Casa Cremada plain, where we will see another of the menhirs. We will find the ruins of a supposed church of pre-Romanesque origin, the dolmen and the last menhir of the Casa Cremada, a beautiful example of a dry stone shack, a symbol of the peasantry not too many years ago.
We will go to the Alzeda ridge where it will allow us to enjoy the panoramic view of the valley and the Alzeda farmhouse, as well as the Águila mountain, which will be right in front of us, at the top of the other slope of the valley.
Once we reach the Casa Cremada II menhir, we can continue along the megalithic and dry stone II itinerary and thus finish seeing other elements and perspectives by retracing the path of the Alzeda crest and returning through the Cuarentena valley. If not, we will only need to continue the route until the next crossroads of the Casa Cremada where we will undo the first section of the path followed until here at the beginning of the itinerary.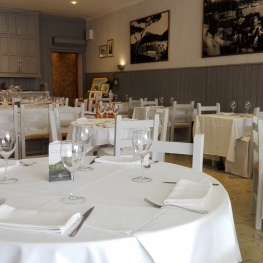 Torroella de Montgrí - L'Estartit

(a 23.2 Km)
Enjoy magnificent cuisine and a stay with sea views, at the Restaurant…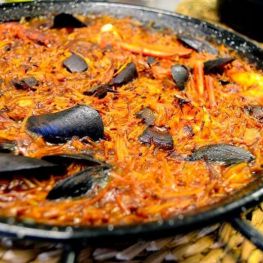 Colera

(a 15.7 Km)
In Can Llissa we are defenders of the slow food philosophy and…