The bay of Roses from an eagle's eye view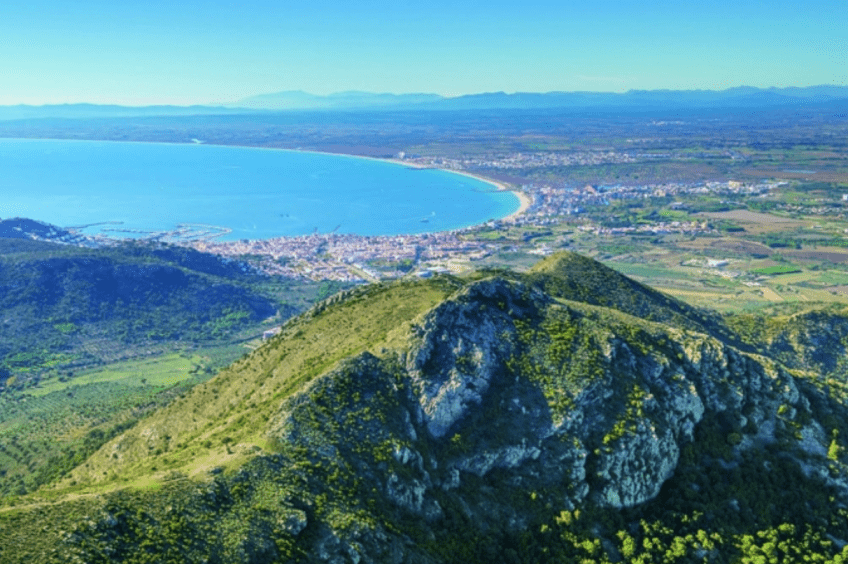 This is a very typical hiking route in the Alt Empordà region due to the magnificent views it offers us. Once at the top of Puig de l'Àliga (463 meters), on one side you can see to the south, the beautiful bay of Roses, and if we turn to the north, we can see the Port de la Selva between the valleys. and mountains of the Cabo de Creus Natural Park.
Difficulty: Medium
Distance: 7 kilometers
Time: 2h 30m
Elevation: 461 meters
We will leave from in front of the Rescator padel club of Mas Oliva de Roses. We will climb gently along a track that goes into the Alzeda valley. Just before reaching the farmhouse that gives its name to the valley, at a bend in the path, we will find a huge olive tree planted several hundred years ago. We will arrive at the farmhouse (uninhabited and in ruins), some sheep and goats grazing its meadows give life to this lonely space. The path climbs steeply flanking a cork oak forest of fairly large oaks.
Soon we will have a good view of the valley and the town of Roses. We go up the path and we will arrive at the Can Causa plain, another farmhouse in rubble in an imposing setting. The first thing that catches our attention is the spherical dome of the military base that crowns the Puig del Pení (607 meters), the highest point in the Roses and Cadaqués area. To the north, bordering the towns of Palau-Saverdera and Selva de Mar, San Salvador (670 meters) is the highest peak in the Sierra de Rodes.
We will return to Ponent and climb the ridge, here the conditions for the vegetation are extremely harsh, strong winds, drought, grasses, fires, etc. The plants adopt prostrate forms and are protected between the stone blocks of the Puig de l'Àliga (463 meters). From here we can contemplate a wide view over the Bay of Roses in the South and the Puerto de la Selva in the North.
Once we have contemplated the landscape, we begin the descent. Be very careful because the first section of the descent is bad, we pass between stones and we must be careful not to stumble. Afterwards, it softens and we will go down without problems to a meadow where the cows graze calmly.
We go down the path, always in the direction of Roses, and we will meet the Riera de la Vila. We will walk along the track on the left side (that is, the stream is on the right hand side) until we reach the Mas Oliva sports area again.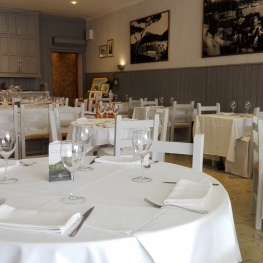 Torroella de Montgrí - L'Estartit

(a 23.2 Km)
Enjoy magnificent cuisine and a stay with sea views, at the Restaurant…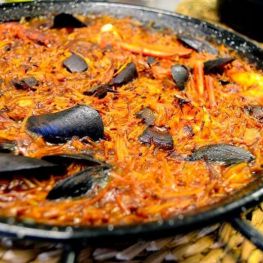 Colera

(a 15.7 Km)
In Can Llissa we are defenders of the slow food philosophy and…