Fix the History Tarragona
Carrer de Smith, 61
Tarragona
Contact
info@fixthehistory.com
Fixters Academy
If you are reading this, you are interested in entering the Fixters Academy.
How? Do not know what a Fixter is? Fixters are the guardians of time. Our goal is to correct the alterations provoked by the Omega Temporary Terrorism group to safeguard the space-time line in which we live. At the Academy we manage both the training of the Fixters and the field missions. If you are still interested, you can enlist in groups. You are the future. Save the past. The present needs you!
How does it work
An Escape Room is a collaborative game where, a group of 2 to 6 people, solve a series of puzzles to get out of the room where they are trapped. It is a game that is stuck since you can play with friends as well as family and that will make you go adrenaline up to unsuspected limits!
mission
The temporary terrorist group Omega has altered the past to force Professor Anselm Ferrer to develop very dangerous technology. You have to travel back to the past and retrieve the teacher's laboratory diary to prevent it from falling into bad hands and naturally you must find a way back to our time before the temporary portal closes!
60 minutes
The current technology only allows us to keep the portal connecting with the past for an hour. If they take longer to complete the mission, you will be trapped in 1934 forever. So do not lose sight of the stopwatch!
Reservations
In order to participate it is important to reserve day and time on our website. For any doubt or incidence you can contact us or call us by phone.
If you want to make an original and fun gift we also offer you the possibility to get a gift coupon.
02/04/2023 - 08/04/2023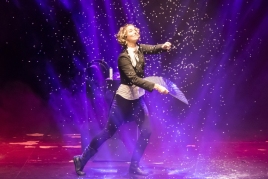 08/04/2023 ...