OdySea - Centre de Busseig - Diving Center Torredembarra
Contact
info@odysea.cat
Have a fun day with us knowing the aquatic world!
Enjoy the sea and its surroundings, know the marine life and share it with your friends!
Odysea is a family company with long experience in the diving sector, we carry out all kinds of activities related to diving, such as snorkeling trips, swimming and sea baptisms, scuba diving courses and guided boat trips in the area. We also make departures with boat and rentals of stand up paddle boards.
We are a young team that want to transmit the passion and respect to the sea, and we do what we like the most!
We speak English, French, Flamenco and of course, Castilian and Catalan.
All our activities can be carried out from the age of 8, and we realize them in small groups accompanied by our instructors. With friends, as family, as you want!
We include photos and videos of the participants to have a pleasant memory.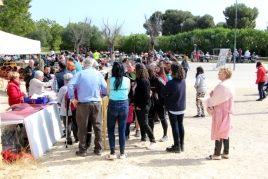 26/03/2023

08/04/2023 - 09/04/2023