The teva route is the name behind which is M.Carme Granados, Tourism Guide Authorized by the Generalitat of Catalonia. I offer guided visits to various monuments and towns in Camp de Tarragona. I also create thematic author routes and creative experiences for people who love the cultural heritage, the landscape and the gastronomy of the territory.
Some of the routes that can be done with me are:
Tarragona
Discover the World Heritage Archaeological Site that will bring you closer to what was once one of the great cities of the Roman Empire.
Check availability to arrange a date
Reus
Vermouth and shops with history
Guided tour to see the oldest shops in Reus. Includes two vermouth tastings.
Summer hours: Friday at 5:30 p.m. Catalan
Prices € 12.50 / adults and € 7 / children (8-14 years)
Family visit Shopping in the historic stores
With this guided tour we will discover some of the most historic shops in the city of Reus. We will be guided by a map of the 19th century and together we will look for the stores following a series of clues.
Summer hours: July 3, 17 and 31; August 14 and 28. 11:00 Catalan
Prices: € 45 per family up to 4 members + € 10 per extra member.
Secret Reus
We will discover the history of Reus by explaining buildings, characters and spaces from curiosities, anecdotes, facts and little-known and surprising elements. Includes a visit to the Priory Church of San Pedro and the Vermouth Museum, as well as a tasting of vermouth and menjablanc.
Summer hours 1st and 3rd Saturday 5:30 pm Catalan and 2nd and 4th Saturday 5:30 pm Spanish.
Prices € 15 / adults and € 6 children (8-14 years)
Vermouth and cuisine in the modernist Reus
We will discover the modernist cuisine, the life and food of the workers and the bourgeoisie, its cafes, restaurants, shops, markets and food factories, the recipes of the time and the Vermouth of Reus.
Check availability to arrange a date
Prices: € 15 / adults and € 7 children (8-14 years)
Reus, Gaudí & Montaner
We will visit the Gaudí Center, an interpretation center dedicated to the architecture of Gaudí and the modernism of Reus. Then the route will take us to know the works of Domènech i Montaner: Casa Navàs, Casa Rull and Casa Gasull (exteriors) and the childhood of Gaudí.
Check availability to arrange a date
Prices: € 17.50 / adults and € 10 children (8-14 years)
Parc Samà (Cambrils)
We will visit this historic garden from the late nineteenth century with colonial airs in which we also find examples of local and exotic flora and fauna.
Check availability to arrange a date.
You can also visit other emblematic places such as the Cistercian, Montblanc, Priorat and Prades monasteries.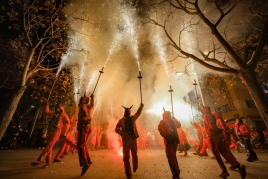 14/01/2022 - 23/01/2022