Bosc Aventura Salou Salou
C/de Barbastre, 15
Salou
Contact
info@boscaventurasalou.com
Bosc Aventura Salou is a multi adventure park in the center of Salou. Designed for a family and school environment. And with activities for children from 3 years, youth and adults.
This park, located in the street Barbastre de Salou, has a total area of ​​8000m2, where it has various activities for children, young people and adults.
Activities
4 circuits of bridges and zip lines with more than 60 different activities that go from tree to tree. Children's circuit from 3 years, circuits for young people and adults.
Paintball soft for children from 7-8 years. A new way to play paintball without the danger of getting hurt.
Paintball for adults, 14 years old. A game full of adrenaline and fun.
Game of archers, from 8 years. A new activity very fun and similar to paintball. The difference is that instead of using paintball markers and paintballs, bows and arrows with foam tips are used.
Archery, from 8 years. Several targets to test your aim.
Mini golf: 14 different tracks where you can test your skill. Children can play from 4-5 years old.
Picnic area to celebrate birthdays, bar service (soft drinks, ice cream, snacks...)
An ideal place to hold any celebration, be it a birthday party, a bachelor party, a teambuilding for companies or a day of activity and workshops for schools.
A place of leisure where safety is its primordiality, and where delivery and commitment make Bosc Aventura what it is.
Their prepared and qualified monitors are in charge of monitoring, controlling and directing the activities of the park with the initial explanation of the safety rules and the correct operation of them, they make it possible for the clients that visit their facilities to have a great time and I want to repeat again.
18/11/2022 - 04/12/2022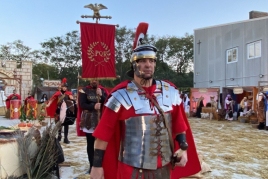 17/12/2022 - 18/12/2022