Club Nàutic Vilanova Vilanova i la Geltrú
Contact
oficinaesportiva@cnvilanova.cat
An unbeatable location
The Vilanova Yacht Club is one of the best marinas in Catalonia for your family and boat.
45 km from Barcelona and 30 minutes from its international airport is Vilanova y la Geltrú. A city of 68,000 inhabitants that has the third largest port in Catalonia integrated into its seafront. The Club Náutico Vilanova is located here, an unbeatable base for nautical activity in the western Mediterranean. An ideal marina from which you can carry out activities all year round, but also dock there during the winter months and maintain your boat.
Vilanova y la Geltrú is located 100 miles from Mallorca and 142 from Valencia. But it is a good place to stop for those who undertake routes from the Gulf of Lion, because we are 210 miles from Marseille or 178 from the port of Sète. The Vilanova Yacht Club has the best services and mooring up to 15 meters, with very competitive prices. And all this 20 minutes on foot from the center of Vilanova, a quiet city with a great cultural, commercial and gastronomic offer, very well connected, by train and road, with respect to its surroundings in Penedès and especially Barcelona.
A friendly city where land, sea, gastronomy and partying merge
Vilanova i la Geltrú is a city of size and friendly treatment. To begin with, as soon as you walk out of the port, you will find an infinite number of gastronomic, commercial and nautical services proposals. In this the port of Vilanova is unique.
But later, entering the city, you will discover what was once Havana Xica, the popular name by which the city was known in the days of transatlantic trade.
The Vilanova Yacht Club has its origins in 1920. In 1957 it inaugurated its first location on the eastern quay of the Port of Vilanova and in 1983 it moved to its current location. It currently has almost 700 members and has more than 800 moorings. One of the great values of its marina is that it is integrated into the ideal city if you are looking for tranquility, proximity, rest and good gastronomy.
An Indiano legacy that is manifested in the architecture and character of the city. Vilanova i la Geltrú is the port of Penedès, historically a land of wine, and which currently offers the best food and wine offer in the country. Without detracting from the great native product, the Vilanova Prawn, as the emblem of excellent seafood cuisine, which here has the identity of the seafaring tradition.
With the same calm of sailing you can discover Vilanova y la Geltrú. It is a calm, quiet city that treats visitors as people and not as tourist units. Because Vilanova is not a tourist destination, it is a good destination with visitors. What to say about its trade and the large number of shops that you can find in a beautiful pedestrian island, full of terraces. Vilanova y la Geltrú also offers great cultural, museum and, above all, festive proposals, with its genuine carnival at the forefront of an extensive agenda.
Access to the Vilanova Yacht Club
The Vilanova Yacht Club is located at 41º 12' N 1º 43.6' E, in the city of Vilanova y la Geltrú, capital of the Garraf region, province of Barcelona.
It is located only 40 km. from the city of Barcelona and 20km from El Prat International Airport. Its land communication routes are the C-31 and the C-32 motorway.
01/04/2023 - 02/04/2023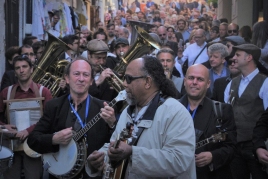 29/03/2023 - 02/04/2023