Bikemotions, enoturisme al Penedès Subirats
Bikemotions - Rent and guided and self-guided bike routes.
Nature - EXERCISE - BICYCLE
We offer different proposals for you to come to enjoy the Penedès pedaling between vineyards and discovering small family and ecological wineries.
Rent of electric, touring and mountain bikes so you can move your way
Bike & Taste - Self-guided bike routes including a stop in a winery's garden for a wine / cava tasting with a small snack
Bike & Visit - Self- guided bike routes that include a visit to a winery and tasting of its wines / cavas
Private guided routes - We will accompany you during the route and we will explain the region and viticulture. We will design it to measure, being able to be for half a day or for a whole day and can include a winery visit, breakfast, lunch... Ideal for families, friends or colleagues.
Routes by company or student groups - We organize bike routes, viticulture workshops, walking routes... Contact us and we will find the best proposal for your group.
We recommend the electric bicycle option for those who want to enjoy a pleasant walk and that the unevenness does not pose an obstacle.
We are at the Lavern-Subirats train station, between Sant Sadurní d'Anoia and Vilafranca. Subirats is the capital of the vineyard, ideal for pedaling between vineyards along the different routes and to enjoy some landscapes and spectacular views of the entire region, with the Montserrat mountains in the background.
Apart from the Subirats routes, we have longer routes, being able to follow the River Route, the Penedès 360, cross the Garraf and reach Sitges... Routes, options and prices on our website.
You can get there by train, sustainable train + bike transport, or by car and park for free at the same station.
We wait for you!!!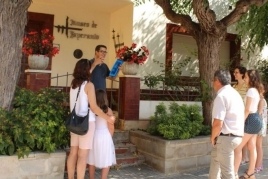 22/01/2022 ...