Bodegues Sumarroca Subirats
Barri El Rebato, Crta. de Sant Sadurní a Gelida, km. 15
Subirats
Contact
winetourism@sumarroca.com
The wineries are located in the heart of the Penedès, between Barcelona and Tarragona, next to the Anoia river bank. The vineyards are spread over three farms. In parallel, the promotion of biodiversity is a constant in Sumarroca's environmental management, practicing responsible and ecological viticulture.
Between Sant Sadurní and Gelida, they have three farms that make a total of 460ha. Coloma Mill, an old paper mill from the 16th century and 35ha of vineyards around it; Inherited Sabartés, with a XIX century palace and 25 ha of vineyard. The third, and the largest, is the one called Finca Sumarroca with 406 ha and a Romanesque church from the 11th century in the middle.
Its philosophy in the agricultural world and, more specifically, in the vineyard, is ecological and sustainable. The environment in their case is fundamental, and that is why they maintain and respect the forests that delimit the properties, as well as the two ravines that section the main farm in Monistrol d'Anoia. In addition, the fauna, and especially the ornithological, ends up enriching the contribution of the land in the vineyards.
This allows them to organize all kinds of activities and experiences in the vineyards, apart from the visit to the winery and the tastings. They offer barbecues in the vineyard, breakfasts, parties and concerts... And, of course! special experiences to celebrate the different cycles of the vine: Spring Festival, teaching pruning, the harvest etc.

They also offer combined visits of the winery with a cultural environment, to enjoy a whole morning outdoors, such as with the town of Torreramona, Gelida Castle or the beautiful coastal town of Sitges.
Family involvement with visitors has always been very important. Enjoy with them the magnificent world of viticulture and culture.
Ecological Family Winery. Farmers who love the land.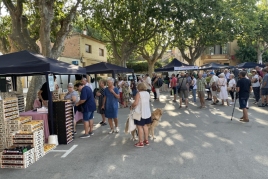 10/06/2023 ...