Itinerary through the factories of Santa Maria de Palautordera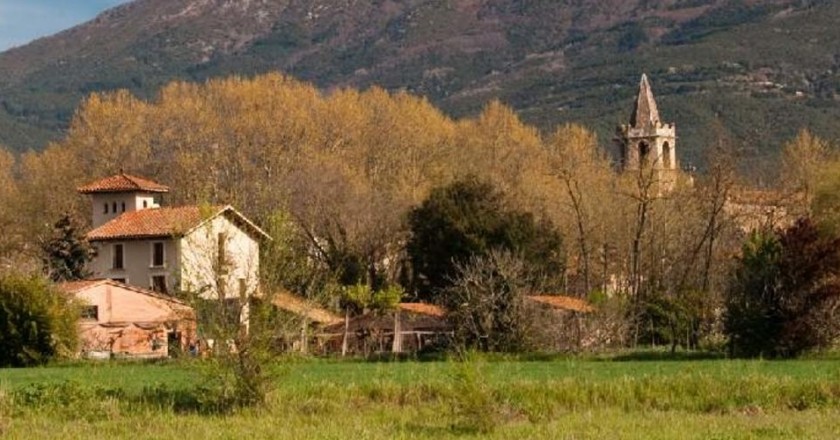 This excursion is framed within the municipality of Santa Maria de Palautordera, at the gates of the Montseny Natural Park, to learn about the industrial reality of the beginning of the last century. On the way, however, we will find forests of pines and holm oaks, with cork oaks and some oak and a typical undergrowth: heather, juniper, strawberry trees... In the mushroom season you can find different varieties: chanterelles, pinetells, ruissinyols...
This tour allows us to know the factories of Can Balada, can Guinau and can Guarro. The itinerary is designed to be done on foot, but it does not mean that it can be done by mountain bike or on horseback, although it may be difficult due to the urban section.
We leave the Plaza de la Villa along Calle de la Cruz until the roundabout that we must cross going straight where we will take the old Mosqueroles road and in a few meters we will arrive at Casa Balada or the factory above.
Let's go back to the roundabout and turn left, passing in front of the slaughterhouse and the clean point, we come to a roundabout, which we make straight on the left side. Before reaching the second exit we will find a path that goes down to a footbridge, above the Tordera, we take it and go over the iron bridge, then we turn right until we reach Guinau house or factory in the middle.
We take the paved road to the right, in a moment it leads us to a dirt climb that takes us to the industrial park of Can Vernedes - ca n'Auleda, where we turn right. We will go by asphalt and cement always the closest to the river, keeping the ships to the left until 1,800 m from the start (20 min) we find a path to the right, we take it and continue parallel to the river until a section below, we take a detour to the left. Until the end, we turn left.
We find the asphalt and go under the AVE tracks. We continue along the asphalt, leaving a detour to the right, until we reach the treatment plant. Just arriving, we turn to the right with which we arrive at Guarro's house.
We have to go back about 50 m. back and take the path to the right until we reach the asphalt, we go under the AVE tracks again (2,800 m) and after a few meters we turn left and in a short time we are on the footbridge of the Sierra (Currently the walkway is damaged by storm Gloria and cannot be passed).
We go up to the Sierra neighborhood and follow the straight path to Ramon y Cajal street where we turn left to the Rambla de los País Catalanes, which we will take to the right to return to the Town Hall via Dr. Robert street.
Source: Santa Maria de Palautordera Town Hall