Rukimon - Rucs del Corredor Dosrius
Ctra. 5101 - Km.2 (Dosrius - Canyamars)
Dosrius
Contact
info@rukimon.com
Do you want to walk next to a donkey? Do you prefer to ride a walk in the woods? Are you looking for children's activities? Do you want to know the new pollinos? Would you like to brush a donkey?
The Burros del Corredor reserve is located in the Canyamars Valley (Dosrius) within the Montnegre Corredor Natural Park, in the Maresme region (45 minutes from Barcelona).
It is inhabited by about fifty donkeys, who live in semi-freedom, in an extensive regime, rotating through different pastures and without stabling. The reserve has an extension of 10 hectares and there is a part that we call Rukimon, prepared to receive visitors, so that they can meet some of the donkeys up close, and walk through the natural place where they live.
The Rukimon is the only park where, together with the Catalan donkey, we find and can compare copies of all the breeds of donkeys from the Peninsula.
It is, then, a unique proposal.
The visit to the park is free, on foot, it can last about half an hour. It is marked and documented with explanatory signs.
And the best of all; Interaction activities with donkeys to choose from! There are them for all ages. Family walks on the backs of the donkeys, birthday parties, hiking accompanied by the donkey carrier of the packages, children's routes along farm roads and woods where the children are assembled and the adults walk driving the donkey, gymkhana to obtain the driver's license / donkey caretaker, visit to pastures with donkeys in freedom, bachelor parties, sleep in the reserve, proposals for companies, schools, centers and much more.
It is advisable to make a prior reservation through our website or by telephone.
On the premises you will find: services, picnic areas under cutlery, small bar service and playgrounds.
Whatever age you are, alone, as a family or as a group, you will find the perfect getaway!
Using them we recover them. If you visit us, help us do it.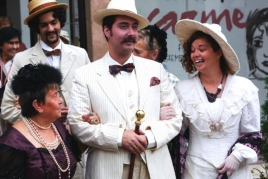 29/09/2023 - 01/10/2023

26/11/2023