El Mujal via la cresta (circular)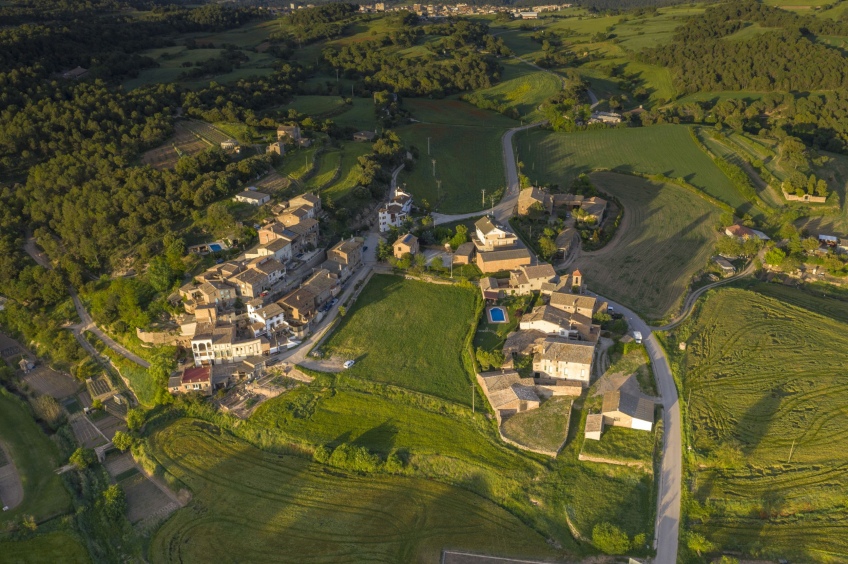 Following this circular route we will enjoy the essence of the traditional landscape of the municipality of Navás that will take us, this time, to the medieval center of El Mujal following a trace of the old salt road that linked Cardona with Vic. Fields, forests, vineyards and a castle from 1135 is what awaits you during this excursion.
Difficulty: Low. Without any technical difficulty
Distance: 6 kilometers
Duration: approximately one hour and a half
We will leave the center of Navàs and go to look for the motorway bridge, located near the residence, to the west of the municipality, to cross it and reach the greenway that connects Navàs with our main point of interest on the route, El Mujal. Just on the other side of the bridge, we will find a sign indicating the route. We will continue to the right, following the white and red markings that indicate the GR-176.

Later we discovered again an indicator stick. This time we will follow the white markings, which will lead us to turn left. Approximately 100 meters further on, we will turn right to follow a path for about 600 meters until we reach a track. From this point we are only separated from our objective, El Mujal, about 700 meters on the way.

Once in the medieval center, be sure to visit the medieval church of Santa Cruz del Mujal, dating from 1239, or the Castillo del Mujal, declared a Cultural Asset of National Interest (BCIN). If you have more time and you are fond of gastronomy, you can stop by the Cal Músic Cheese Factory, an artisan workshop that has been awarded the Lactium Prize for artisan cheeses from Catalonia to taste the different types and specialties they make. If you have done the route with the little ones in the house, at Granja Natura they will enjoy the most interacting with the animals and learning to take care of them.

To return to Navàs, we will leave El Mujal passing in front of the Church. Turning to the left, we will find a signpost. Again, we will follow the white marks until we reach a stream, which we will cross, and which will take us to the track that connects Navàs to les Cases Noves. We will cross the track again and, about 800 meters ahead, we will come to another track along which we will continue. After about 500 meters following the track, we will turn right towards Navàs. We will continue straight on and after practically 2 kilometres, having passed under the motorway and the vineyards, we will enter Navàs again through the south side of the town.
Text: Navàs City Council
Images: Sergi Boixader