A walk through the plans of Montmajor in Baix Berguedà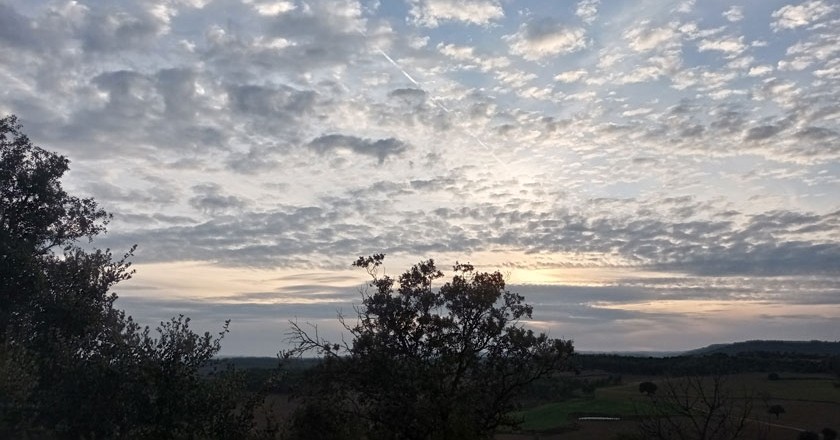 We suggest a walk around the Montmajor nucleus and see how the landscape of Baix Berguedà leaves the pre-Pyrenean reliefs of the region and becomes more typical of Solsonès. A family tour between fields, farmhouses and forests where you can look for mushrooms in autumn.
We left the schools in the nucleus of Montmajor. In the square is the Museum of the Mushroom, right in front of the Town Hall.
We will take a circular walk, mainly along a forest track and a short stretch of local road. In some section we will find yellow signs but do not be confused because the track does not fully coincide.
Just to start, we pass by the Roc de las Brujas and then the views become generous towards the Capolat mountains to the north and Querol to the south, with views of the two towers on the ridge.
We have before the landscape that will accompany us throughout the tour: fields, farms, farmhouses and beautiful forest cuttings where to find a mushroom. To the east, we also glimpse the nucleus of Montclar.
Before us, a line of poplars indicates the Casó ditch where we are going. Once we crossed the ditch, we skirted it upstream, passing through the great Casó valley and then we entered the most abundant patch of forest on the route. When the route is gamified, (you will see it with an icon in the App) in this forest you will find some surprises.
At some points, where the dirt has gone, it reveals patches of bare rock. We are in the sector of the rock of the snakes.
We cross the ditch again to turn towards the town and right here we will find a raft under a small rock outcrop. Following the track heading for the hill of Pozo de Casaguà. We are near Casaguà, the mas de Santa Cruz and the chapel of Santa Cruz de Montclar.
We leave the yellow markings to follow the trail passing by the side of a cow farm with views of the Capolat mountain range. Surrounded by holm oaks we approach the town through the football field but before arriving we turn left along a track that will take us through a beautiful holm oak grove with old country cabins, to the schools where we have left the car.
Source: Montmajor Town Hall