Way of the Old Castle of Olivella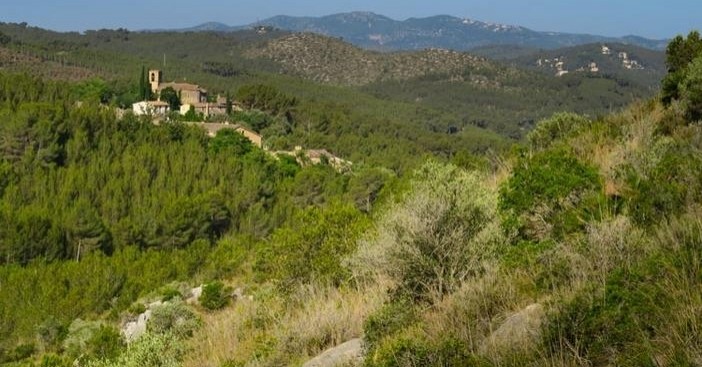 In this itinerary we recover historical trails of Olivella's term used to climb the Castle, reach the hamlets, go to the vineyard, graze the herds or clean the clothes when the wells were low. All this taking an ethnological and scenic walk through the Garraf park.
The route distance is 6.07 km, with a vertical drop of 240 meters. Approximate duration: 1 hour and 42 minutes.
This is an ethnological and landscape itinerary for the municipality of Olivella, which shows a series of heritage elements related to the establishment in the territory, the uses and resources of this harsh landscape and its natural values.
A first part, uphill by narrow roads and paths, joins the town with its millenary origins, the Old Castle of which there are references from the year 992, and passes near such singular elements as the era of Can Pau, the oak and the raft of the Pozo de los Machos, the Barraca del Borregaire, the Rector's Fountain and its strawberry trees, the Romanesque church of San Pedro del Castillo Viejo (13th century). Throughout the journey the trace of man becomes evident; The afeixat land shows ancient vine, olive and cereal crops.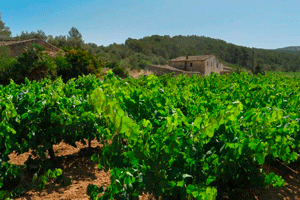 Always accompanied by an invading forest of white pine at different stages of development, or with shrubs and thickets of rosemary to the sunny and stony parts; of abandoned terraced fields of old olive trees and formerly vineyards; all this, dotted with a small palm tree representative of the Garraf park: the palmetto.
Up the Castle, the relief and the vegetal landscape of the Garraf is evident in fullness. Inside up, if you are lucky or patience, we can also see the flight of a beautiful raptor in fragile state of conservation: the Bonelli's eagle.
Downhill, now for more comfortable tracks, we will go around the hill of the Castle to go to look for the Begues stream. Before we will pass through the most abandoned of Vendrell and its fields of dead cherry trees.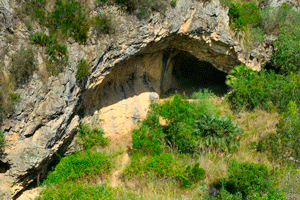 The river, dry, brings us closer to the cave of Can Muntaner and its hidden humidity allows us to develop beautiful holm oak clippings in contrast to the dry environment we have trod. The occasional avenues erode the pebbles and stones of the stream and when the water is hidden the water table, supplies the well and Ferris wheel of Can Duran.
Finally, we will surround the plans of the terraces, in Can Muntaner and Can Duran to realize in today, there are suitable and yielding lands for the cultivation of the vineyard.
Source: NODE Garraf