Province:
Barcelona |
Shire:
Berguedà
|
Inhabitants:
424 |
Extension:
22,3 Km2 |
Altitude:
757 m
The municipality of Vilada covers an area of ​​22.34 km 2, bordered by La Nou, Borredà, Castell de l'Areny, Cercs and La Quar.
Vilada, originally consisted of three cores that correspond to the three parishes of Sant Joan de Vilada, Santa María de Roset and Santa Magdalena de Gardilans.

After a time of insecurity, the repopulation impulse of Wilfred the Hairy once again gave life to the region and the parish of Vilada took a clear preponderance with respect to the other two, which became subsidiaries.
The pine forests and grasslands cover a large part of the mountainous sectors and represent half of the total area of ​​the area, while in the flatter areas of the two slopes of the Vilada valley and on the right side of the Margançol, it is where the population is located and also the crops.
The town of Vilada originated at the foot of the Castle of Roset, where there was a church consecrated by Nantigís. Later it was moved to the place where it is today, in the sector on the right of the Vilada stream, shortly before its confluence with the Margançol.
It is located on a slope on the road and dominated by the building of the parish church of Sant Joan Baptista, which after successive reforms and extensions over time has almost no element of the primitive temple.
The most noteworthy places of interest are: the Creu de Roset, the Serrat del Migdia, the Doro Bridge and the Roset Castle, Santa Magdalena de Gardilans and Sant Miquel de les Canals.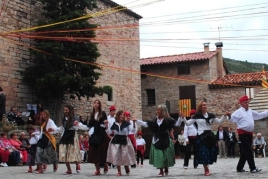 28/09/2023 - 30/09/2023

Weather forecast
25-09-2023
Morning
Evening
Max 25º
Min 11º
26-09-2023
Morning
Evening
Max 26º
Min 12º