Province:
Barcelona |
Shire:
Berguedà
|
Inhabitants:
1.326 |
Extension:
47,4 Km2 |
Altitude:
650 m
Cercs is a municipality in the Berguedà, in the province of Barcelona. It is located north of the city of Berga. The name comes from the quercus Cercs which means oak in Latin.
Cercs Originally consisted of a few scattered houses and was known Rabentí Bridge. From the nineteenth century, and due to the arrival of the textile industry to the region, Cercs began to grow thanks to the mining explanation, much needed in order to supply the colonies of the region and operate the steam engines. Thus were born some nuclei miners as Sant Corneli and Sant Joseph. Subsequently founded the Rodonella cores and Sant Jordi.
Another core was Cercs VEDELLA Sant Salvador of today flooded by the construction of Baells Marsh. It is in the middle of this swamp where stands the Romanesque monastery of San Salvador de la VEDELLA, a building founded in 830, and the church is preserved more or less visible depending on the level of the swamp.
Within the municipality of Cercs also find the church of Sant Quirze Pedret Pedret Bridge and a ninth-century Romanesque building, and a medieval bridge in perfect condition. The church has signs Mozarabic and has three naves and three apses, the result of the changes that took place over the centuries. To access Pedret Sant Quirze can be done from Berga.
If you pass through the town of Cercs can see Cercs Thermal plant, which produces electricity from coal.
At the heart of Sant Corneli you can visit the Mine Museum Cercs a thematic museum on mining in the area, where you will discover what life was like in a colony of the fourteenth century and you can enter with a van inside a mine to see how hard the task was a miner.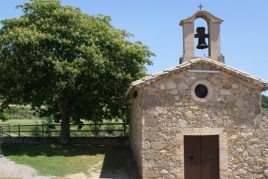 06/10/2023 ...

Weather forecast
03-10-2023
Morning
Evening
Max 27º
Min 14º
04-10-2023
Morning
Evening
Max 27º
Min 13º