Province:
Tarragona |
Shire:
Baix Camp
|
Inhabitants:
35.675 |
Extension:
35,2 Km2 |
Altitude:
24 m
Cambrils is a municipality in the Baix Camp region. Located southeast of the Camp de Tarragona, in the lowest part of the plain and facing the sea, it has a surface area of ​​34.76 km2. In the municipal district of Cambrils, the main and central population centers are those that are formed by the old neighborhoods of Vila and that of the Navy.
The coast consists of a total of 9 km of sandy beaches. These beaches are divided into eastern or western and west or west beaches, depending on whether they are located east or west of the port of Cambrils.
The origin of the settlement in Cambrils goes back to prehistoric times. It was not, however, until the Roman period when the human occupation of the present Cambrils was intensified especially, as evidenced by the different archaeological remains found throughout the term, such as in the area of ​​La Llosa, favored by the proximity to the capital Tarraco and the passage of the Via Augusta.
Today you can get to know from the oldest history to the end of the Roman world at the Molí de les Tres Eres Museum, the main headquarters of the History Museum of Cambrils.
Cambrils is a Sports Tourism Destination, specializing in athletics, football, sailing and cycling, where you can practice sports all year round because it has first class sports facilities that together with the accommodation offer and good weather make Cambrils The city you are looking for to practice your favorite sports.
Cambrils is also a Family Tourism destination, where beaches, accommodations and certified restaurants are adapted to the whole family.
In addition, Cambrils is known as the Gastronomic Capital of the Costa Dorada, with more than 150 restaurants, 2 of them recognized with a Michelin Star, and others, recognized in specialized magazines in gastronomy, by the sailor, traditional style and by the raw materials Of their recipes.
You can not miss the arrival of the fishing boats in the port, discover the old town or a sunset from the coast... in Cambrils the holidays arrive in good port.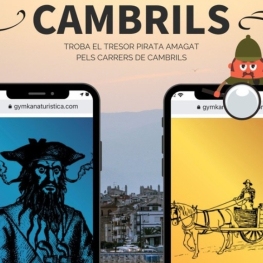 We propose a very fun and original clue game to enjoy and rediscover Cambrils in a very enjoyable way. No guide is needed, it can be done at any day and time, with…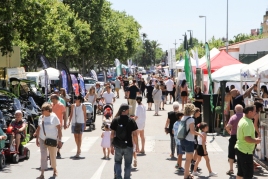 02/06/2023 - 04/06/2023

Weather forecast
02-06-2023
Morning
Evening
Max 22º
Min 14º
03-06-2023
Morning
Evening
Max 22º
Min 15º