Restaurant Denver Cambrils Cambrils
Carrer Mont Roig, 9
Cambrils
Contact
restaurant@denvercambrils.com
It all started in the "Xiri", in a very small kitchen...
The history of the Denver begins many years ago, as many as 21 summers, when we started our story with the Denver Chiringuito. Then everything was very different, in the Chiringuito, with your feet in the sand you could eat some sardines, a cuttlefish, squid, some sandwiches and some simple dishes, and everything came from a small kitchen where we had a stove laptops and barely a refrigerator, everything was very "home-made"
Little by little, with a lot of patience, many hours of work and some sacrifices, we expanded our letter. We started to include fresh fish from the house, initially sea ​​bass and sea bream (always from Cambrils and wild) and in the end our clients had a very complete range of fish, so much so that some of the fish were totally unknown to one or another client.
The Chiringuito has grown a lot in these years, so much that professionally speaking came the moment we could not move forward, for obvious reasons. The space was very small and we started to consider one more step. We had very clear the concept, it had to be something quiet and special, but we had a premise, it could not be far from our "XIRI", our essence.
3 years ago the restaurant arrived
This is how I came to the Denver Restaurant, where I could innovate, create and grow much more thanks to the extensive and new facilities of this place.
With a market and avant-garde cuisine, we want to offer our clients a new gastronomic experience, an evolution of that cuisine that started in "EL XIRI".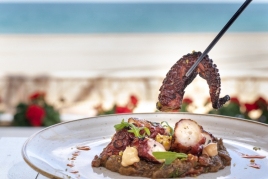 01/06/2023 - 18/06/2023