L'Orangerie de Clos Barenys Vila-seca
Camí Vell de Cambrils, 180
Vila-seca
Contact
orangerie@closbarenys.com
Under our fires we elaborate Mediterranean high gastronomy selecting the best products. The result is a creative cuisine with the perfect balance between the avant-garde and tradition.
Our spaces
Orangerie Room
A beautiful greenhouse where the exuberance of the gardens, the elegance of the design and the light contrasts will make you doubt whether you want to celebrate inside or outside. You decide, we prepare it wherever you want!
Mariana Room
There is no other room that has the vineyards so close in Catalonia. This, and the spectacular furniture-bar of the nineteenth century, make this unique space an exquisite environment. You decide that you want to celebrate here!
Sala el Celler

An exclusive winery for you, the ideal place to hold a business meeting, without interference of any kind, away from stress.
And to finish, enjoy our cuisine.
Pinewood
Would you like to make the aperitif here? Just ask us. An environment refreshed by the shadows of the pines and oaks. Ideal for aperitifs or civil ceremonies.
Pati dels Tarongers
Spectacular views of the vineyards with the imposing blue of the Mediterranean Sea in the background. Exclusivity for its celebration. The ideal environment to enjoy the pleasures of wine and gastronomy only with your guests. L'Orangerie has some places that fall in love. Here, for example, you can celebrate from the aperitif to a Mediterranean party.
We also have the room La Cava, fully equipped and with capacity for 60 people.
Celebrations
At Orangerie we offer you all the facilities and we try our best to make any celebration as special as possible. Realize your dreams and the celebration you've always wanted.
Events
Our facilities have all the necessary services to organize conventions and high level professional events; projectors, video / DVD players, voicing of spaces.... We take care of everything, from the meeting rooms to the activation of a press office to promote your event.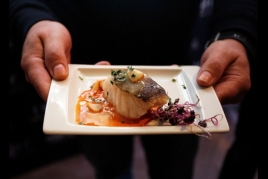 13/06/2023 - 22/06/2023