Province:
Barcelona |
Shire:
Berguedà
|
Inhabitants:
2.199 |
Extension:
27,2 Km2 |
Altitude:
677 m
Avià is a municipality in the Berguedà region located approximately 3 kilometers from the capital of the region, Berga. Its municipality is made up of different nuclei apart from the central nucleus, Avià: the Barrio de la Cruz, Cal Rosal, Graugés, the Molino del Castillo, Obiols and La Plana. All of them are relatively small nuclei in terms of the number of population, but dispersed in the territory of the term. It should even be said that in the center of Graugés we find a pond and in Cal Rosal, an old textile colony, several markets are held, among which the Mushroom Market or the Truffle Fair stand out.
The nucleus of Avià was formed around the church of Sant Martí, built in the 9th century. At that time the castle that served as a watchtower was also built. The nucleus seems to have been walled and it is believed that there were two access doors, on the one hand the one on Calle del Portal -which, today, still preserves the arch between two houses- and the other that must have been located near Cal Gasola.
As the centuries went by, the nucleus grew, this caused the number of houses to increase and a part of the services to be moved outside the nucleus, such as the cemetery, the rectory and the Romanesque church.
The municipality of Avià has an important heritage, both natural and tangible or intangible. It is worth noting the Romanesque church of Santa María de Avià, that of San Vicente de Obiols, in pre-Romanesque style or the Serrat dels Lladres and the Serradet del Bullidor. We must also keep in mind the activities that are carried out, such as the various major festivals that each of the town centers celebrate or the meetings that take place around hermitages such as those of Remei or Sant Serni.
On the other hand, we must not forget the Fiesta del Mowing and Batre, which has been held since 1989 on the second Sunday of July. Its objective is to pay homage to life in the countryside and for this reason a series of practical demonstrations of the work of mowing and beating are carried out, in the same way that it was done in the past, with tools from the field and with the help of animals. This party, over the years, has modified its structure and has been incorporating other elements so that it remains attractive to the new generations.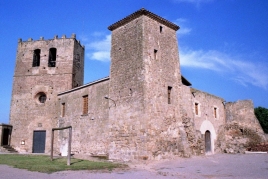 30/09/2023 - 01/10/2023

Weather forecast
25-09-2023
Morning
Evening
Max 25º
Min 11º
26-09-2023
Morning
Evening
Max 26º
Min 12º