Camino de Santiago: from Sant Esteve d'en Bas in Cervera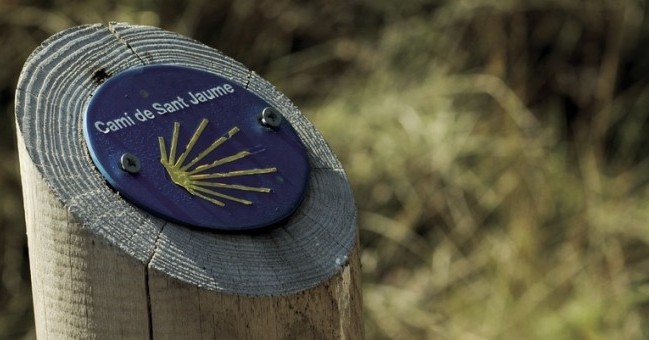 At the end of the last century, the Catalan sections of the millenary and well-known route of the Camino de Santiago (99 km and +) began to be recovered.
Today it is possible to travel, on foot, on horseback or by bicycle, the almost 500 km that go from Sant Pere de Rodes or the Coll de Panissars -the Camino in Catalonia has these two possible beginnings- to Alcarràs. Much of the route is marked with the characteristic blue background and the yellow scallop-shaped arrows that internationally identify the routes to Santiago, and in the regions of Barcelona the route has a hundred kilometers, divided into these 8 stages:
Sant Esteve d'en Bas * - La Ardilla: Route: 19 km Estimated time: 6-7 h
La Ardilla - Vic: Route: 18 km Estimated time: 5-6 h
Vic - El Lago: Route: 21 km Estimated time: 5-6 h
El Lago - Artés: Route: 23 km Estimated time: 6-7 h
Artés - Manresa: Route: 20 km Estimated time: 5-6 h
Manresa - Montserrat: Route: 22 km Estimated time: 6-7 h
Montserrat - Igualada: Route: 27 km Estimated time: 7-8 h
Igualada - Cervera: Route: 38 km Estimated time: 9 - 10 h
GASTROSENDERISME
For those who like to walk but as much or more taste the most delicious products of the places where it passes, with the Barcelona route of the Camino de Santiago you can fill your mouth and stomach with a lot of delicacies. In Vic you have to try the longaniza, Protected Geographical Indication (PGI), and in the Anoia region, an indigenous chickpea, small
and with an intense flavor, or the lamb, very tender and delicious. On the other hand, in Castellfollit de Boix (Bages region) they have called the beans, with fine and shiny skin. In the same region you have to taste the tomato that is grown, said precisely from Bages or Montserrat. And speaking of Montserrat, when you arrive you will surely find the market stalls, with cottage cheese as the star product. To soak everything together, nothing better than a wine from the DO Pla de Bages.
MONTSERRAT, SEGRADA MOUNTAIN AND NATURAL AREA
The appearance of the Montserrat mountain has given it, since time immemorial, the label of symbol, an emblem for Catalans and with great religious weight, since the image of La Moreneta, the patron saint of Catalonia, is venerated at its monastery. But Montserrat has many other remarkable aspects, and one of them is the natural one: under its arid and rocky appearance, when one enters, one discovers a lively vegetation, full of nuances and ideal for hiking, and with a also varied fauna. The Natural Park extends for 3,630 hectares, and its highest peak is San Jerónimo, 1,236 meters above sea level.
Source: Barcelona Provincial Council