Province:
Barcelona |
Shire:
Bages
|
Inhabitants:
76.209 |
Extension:
41,6 Km2 |
Altitude:
238 m
Manresa is the capital of the region of Bages, also known as the heart of Catalunya by their geographical location. Today is one of the main communication centers, halfway Barcelona, ??Girona, Lleida, Andorra and France. Formerly, this location was basic and essential for growth.
In fact, Manresa was developed as major urban center since the Middle Ages, when the presence of the Arabs left an important mark despite having been conquered by Wilfred the Hairy and turned into the center of the County of Manresa. Gradually, this city had to expand its walls to make room for all the people that installed, and that has not ceased, almost, to the present. Thus lived the construction of the two most important religious centers are located in the city of Manresa Seu and Cova de Sant Ignasi. In the same way it has done with the industries that gave life to the city, from the nineteenth century, dedicated to the textile industry, an important exponent of the time and in the area.
Currently, Manresa live in cultural festivals such as the Festival of the Light (Festival of Light), which describes the legend of the arrival of a light or the Fira de l'Aixada when the city becomes average age, held the two in February. Or, Manresa Mediterranean Fair in November.
For the population is advisable to visit different areas of Manresa spread over different routes such as: the Medieval, the Baroque, the modernist or path ignasiana and among which we find the Old Bridge and the Pont Nou Chapel Sant Ignasi Malalt, abducts Chapel, the Convent of Santa Clara, the Casino, the Manresa District Museum or Museum of Science i the Tècnica, without neglecting the aforementioned Seu or Cova de Sant Ignasi.
This information and much more you will find it at the Nou Centre d'interpretació the Carrer del Balç, which is located on the premises of an old house and the tourist office of the city.
The Miracle of Light
The Miracle of Light is a tradition manresana legend that explains how a mysterious crossed Montserrat light from the windows of the old church of Carmen on February 21, 1345, bringing an end to excommunication hanging over the city conducted by the Bishop of Vic because of the passage of the Sèquia (ditch) of the lands of the bishopric Manresa. The ditch water channeled from Balsareny Llobregat to Manresa and its construction, it's over water scarcity the people suffering.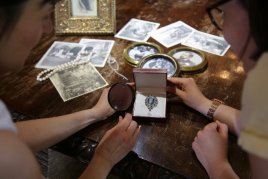 03/06/2023 ...

03/06/2023 ...

Weather forecast
28-05-2023
Morning
Evening
Max 26º
Min 12º
29-05-2023
Morning
Evening
Max 26º
Min 12º