Museu Internacional dels Titelles de Catalunya, Masia Can Falguera Palau-solità i Plegamans
Contact
contacte@mitmuseudetitelles.com
MIT is a space for discovery and collective knowledge, where we offer you exclusive and personalized treatment.
school visits
We accompany you on a tour of the museum rooms where you will see puppets from around the world, ancient and current, and their manipulation techniques. Teachers and educators can find materials to work on emotions and improve learning using puppets as a resource. He will enter the playful space: "Manipulate and play with the puppets." Then you will enjoy a show and then we will guide you in the construction of your puppet and you will take it home.
Visits with family or friends
We make an itinerary through the museum rooms where you will discover many stories of ancient and current puppets that have performed all over the world. You will have the opportunity to be puppeteers for a day in our play area: "Manipulate and play with the puppets", and then you will see a show that will bring you closer to the world of puppeteers. Visiting the museum is a source of learning that creates a new way of relating to family and friends, stimulating imagination and creativity.
Group visits
Guided group tours are a different way of getting to know the puppet museum with your friends, family, work colleagues... You will enjoy the exhibition rooms where you will discover the wide range of puppets in the world. A playful part of the tour encourages communication between all members and a magic and puppet show will close the activity. MIT offers the possibility of adapting the visit to the needs of the group. Prior reservation must be made.
specific activities
MIT promotes and organizes different inclusive activities related to the performing arts, plastic arts, education, literature and heritage. Directs and coordinates the International Conference on Puppets and Education. This year 2023 will be the headquarters of the World Puppetry Day in Catalonia and the Educational Day 0-6 years will also be held. It is planned, in the next course, to support various training initiatives in the field of puppets, visual theater and objects.
Puppet and Therapy
The puppet is a resource that serves to release emotions and learn to manage them. He intervenes as a mediator and natural communicator of them. The intimate bond with the puppet as an extension of one's own self, fosters a feeling of confidence as an expressive instrument and is devoid of threats. An activity of the museum is training in the use of puppets as a therapeutic and educational resource. They have also exhibited puppets used by health professionals.
Rental of spaces
La Masía de Can Falguera, where MIT is located, is a historic building with medieval, gothic, modernist and noucentista elements. It has unique and multipurpose spaces to make the event a success. The museum makes them available to companies and entities to hold corporate events, press conferences, conferences, exhibitions, meetings, filming, presentations... You can arrange a visit to find out if the place is suitable for your activities.
Residences
We support creators and researchers. One of the objectives of the puppet museum is to support the creation and production of scenic activities by facilitating access to the facilities for creators, researchers and artists to carry out their proposals, offering them a place for research and consolidation of projects. MIT also offers the possibility of contracting the artistic accompaniment service.
Our mission is:
Value the art of the puppet in all its aspects
Promote the museum as an agent of social, cultural and economic transformation with a direct and indirect impact on the lives of citizens
transmit knowledge
Promote architectural and museum heritage
Build inter-generational ties
Provoke creative experiences that generate personal evolution
Promote the Catalan puppet
Create alliances and share challenges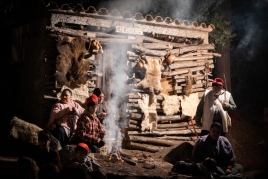 10/12/2023 ...