Hotel Rural La Sala de Camós Girona
Contact
lasaladecamos@gmail.com
We invite you to get to know and discover a rural hotel in which they have put all their effort and energy to offer their guests an unforgettable experience.
A 12th century building steeped in history that carefully combines a rustic style with selected details that give it an air of modernity.
The building complex is made up of the Gothic room, the defensive tower and the rectory built in 1761. It is surrounded by an environment of one hectare of terraces, some with gardens, where you can walk, sit and read or have a drink.
The hotel has 8 rooms all with bathroom and equipped with heating, air conditioning, television and Wi-Fi. The total capacity is for 24 people.
The accommodation includes a breakfast with a wide assortment of local products. You can also enjoy a dinner made from top quality products.
You will have at your disposal different living rooms, some with fireplaces, where you will find information about the area, board games and a wide and varied library.
In the establishment you will find the ideal service and conditions for any type of celebration, be it family, business, friends or others.
And very important, a perfect environment for animal lovers, where your pet will always be welcome and you will be able to meet our companion animals.
Enjoy a fantastic destination surrounded by a landscape of great beauty in the Pla de l'Estany region, very close to Banyoles. We are located in an area with a wide range of outdoor activities, such as hiking, cycling, horse riding, water activities, among others.
For all this and more, La Sala de Camós is the ideal place to enjoy tranquility, nature, sports, culture and local gastronomy with your partner, family or friends.
events
Special weddings, communions and baptisms
The particularity of having a church in front of the hotel makes it especially suitable for those who want to celebrate a communion, baptism or religious marriage, while for civil events the hotel has different spaces both in the garden and inside the building.
The garden area is divided into three levels, one of them with a swimming pool, so there are multiple possibilities to enjoy an aperitif. Once the meal is finished, these areas can become places of entertainment and music until the wee hours of the morning.
The facilities include two gothic rooms of about 100 m2 each and eight rooms, all different, decorated with great taste. It offers the possibility of contracting all the hotel facilities for the event, thus having an exclusive space. The hotel offers a kitchen with traditional recipes and various kinds of menus, although there is also the possibility of hiring catering services. The maximum number of diners to guarantee the quality of the event must not exceed 60 people.
Surprise with a different staging
Business meetings and technical conferences will find the appropriate framework among historical stones. Without outside interference given its location, in a peaceful setting but without being far from entertainment venues and areas of natural and cultural interest.
In our establishment we offer a professional and personalized service, we adapt to the needs of each client.
restaurant
In the Restaurant La Sala de Camós you can taste a wide range of dishes inspired by Local products from the area play a leading role in our cuisine, such as fresh fish brought every day from the port of Palamós, duck with plums and pine nuts, very elaborate recipes when the mushroom season arrives or the traditional vegetables from the Pla de l'Estany region that are generated every year by the Cornellà de Terri garlic or pumpkin fairs in Esponellà.
Registration Number in Tourism Register of Catalonia and Andorra: HG-002298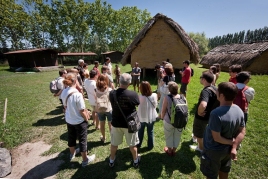 18/06/2023 ...