Càmping Mas Nou Castelló d'Empúries
Contact
info@campingmasnou.com
The Camping has everything you need to enjoy your family vacation. Our facilities, plots and bungalows include large leisure spaces, such as the swimming pool, sports courts, the zen area and the children's playground, as well as a bar, restaurant and supermarket service.
And to make your stay as comfortable as possible, we also have the best services: free Wi-Fi, car, motorbike and bicycle rental, refrigerator rental... and everything you may need at any time.
With a vocation for service and conceived as a family campsite, it has remained true to its essence while continuously improving its facilities and services. The most recent major renovation was in the 1990s, when significant optimizations were applied to the quality of services and the facilities were adapted within the framework of maximum respect for nature.
And they are one of the keys to the loyalty of many families who continue to trust us with their vacations, already in the third generation.
bungalows
Enjoy a quiet holiday on the Costa Brava with your family, staying in cozy wooden bungalows surrounded by gardens.
You will have 2, 3, 4 or 6-bed accommodation, fully equipped with everything you need to feel at home.
The Camping Bungalows have been completely renovated to offer top quality services.
They are a perfect space to be with family or friends or partner.
We ensure that all facilities are fully equipped with accessories and appliances to offer you maximum comfort.
The bungalows have a toilet and a gas stove equipped with its utensils, television connection, air conditioning, their respective bedrooms with bedding and a weekly linen change service.
plots
Disconnect and live the experience of camping in the heart of the Costa Brava. You will camp under the shadows with a tent, caravan or motorhome, in a green space with a calm and familiar atmosphere.
In addition, you will have all the services and facilities very close, to guarantee you maximum comfort during your stay. We have large plots with grass soil, shaded areas and paved roads.
They are ideal for enjoying the tranquility of the natural environment and their situation allows you to move comfortably to all areas of the campsite.
Its size ranges from 70 to 100m2, adapting to your needs, no specific plots are reserved. We have an area of plots with a water and drainage point (subject to reservation). In addition, animal lovers can bring their pets, as long as they are properly leashed and supervised.
Registration Number in Tourism Register of Catalonia and Andorra: KG-000085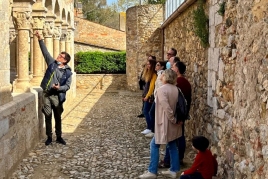 14/10/2023 ...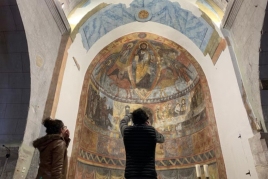 28/10/2023 ...