Route of the Tower of the Moors and walk of Sant Antoni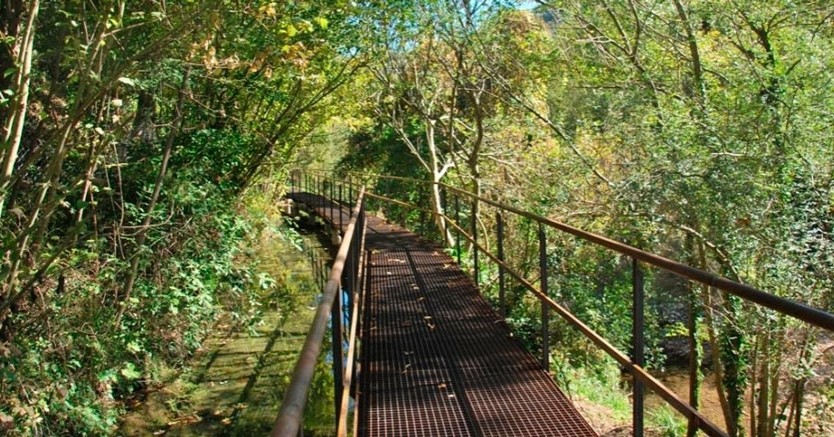 We propose an easy difficulty route and adapted to the municipality of Sant Llorenç de la Muga, located in the eastern part of the Alt Empordà, near the sub-region of the Alta Garrotxa, is characterized by a mountainous relief almost entirely.
Through this 3.5 km itinerary we will discover the Tower of the Moors, the hermitage of Sant Antoni and the Bridge of Sant Antoni, elements of great heritage and historical interest of the population.
The walk is suitable for wheelchairs and strollers, from the hermitage of Sant Antoni and to the ferris wheel (about 800 meters).
We start!
The starting and arrival point will be from behind the church of Sant Llorenç de la Muga.
Once located behind the church of Sant Llorenç, we follow the course of the Muga River upstream along the Huertos Street to the iron bridge.
We cross the iron bridge and follow the path with 230 steps that takes us to the Tower of the Moors. The watchtower has its origins in the thirteenth century and was part of the defensive structure of the population.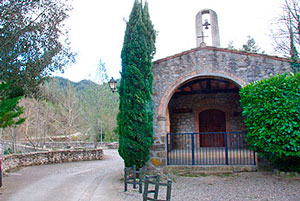 Like many towns in Girona, Sant Llorenç de la Muga throughout the Middle Ages had different elements of defense, which include the walls that surrounded the town, the towers attached to the mountains, the castle and the watchtower, located outside of the population in a nearby mountain.
The castle of Sant Llorenç would be one of the few that could be found located in valleys or sunken areas, since the vast majority were built in high places, difficult to access for most of its contours and with a wide and vast vision of the surrounding territory. That is why, surely its owners believed the construction of a watchtower was appropriate to monitor and warn of possible dangers both by the castle and the population in general.
Behind the tower we take the paved road that goes down to the hermitage and the Sant Antoni Bridge. The construction of this bridge is possible that it is of a similar date to that of the Vell Bridge of the population, but of architectural features not as colorful as the first, although it has the charm that is built from two large rocks that form an excellent dewlap.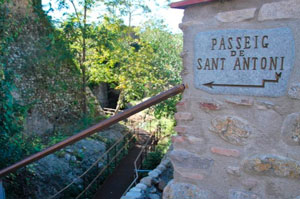 It is a stone bridge with two dissimilar arcades, which unlike the Vell Bridge which are of the lowered arch type, the Sant Antoni arcades are round or half-point. The two main pilasters of the bridge, also have tajamares to the road, and also unequal one of the other.
We cross the bridge and continue walking ahead of the hermitage of Sant Antoni, through the Paseo de Sant Antoni, above the irrigation canal.
We arrive at the Pep Park where we find the Ferris Wheel and continue along the Portal de Arriba to the starting point.
Source: Sant Llorenç de la Muga Town Hall