Province:
Barcelona |
Shire:
Vallès Oriental
|
Inhabitants:
18.285 |
Extension:
65,2 Km2 |
Altitude:
152 m
Sant Celoni is a municipality in the Vallès Oriental that stands out for its privileged geographical location.
The municipality, with an extension of 64.4 km², consists of two urban centers, mainly: Sant Celoni, the most populated, and La Batllòria, about 5 kilometers to the northeast. The municipal term also includes Vilardell, Sant Martí de Montnegre, Olzinelles and Fuirosos, nuclei of the Montnegre area that in the past had constituted municipalities with different grouping formulas.
Straddling the provinces of Barcelona and Girona and very well connected both by road and by rail, Sant Celoni has become a benchmark municipality in Baix Montseny and is one of the main gateways to the Montseny Natural Park and the Montnegre Park and the Corridor, natural spaces of great wealth and scenic beauty.
Sant Celoni offers visitors a rich cultural, natural and gastronomic heritage and a wide variety of nature routes with alternatives for all types of public.
History
The first people from Celón lived in scattered houses grouped around the parish of Sant Martí de Pertegàs. In the 11th century, the lords of Montseny ordered the construction of a chapel dedicated to Sant Celoni at the foot of the royal road from Barcelona to Girona.
At the beginning of the 13th century there were already 72 fires or houses, and in the middle of the 14th century the population was already close to a thousand inhabitants. In 1370 the Hospitallers approved the ordinances of good government, one of the first in Catalonia, demonstrating the vigor and good organization of the town. In 1405 Sant Celoni became the property of the Cabreras, who thus completed their domains in Montseny.
During the Middle Ages the town of Sant Celoni was in the hands of the Hospitallers of Sant Joan de Jerusalem. The fortified city is what we know today as the Força neighborhood. The economy of Sant Celoni was governed mainly by crafts and the market, where all the surrounding towns found the necessary tools and tools to cultivate the land. This is demonstrated by the existing trades in the town: cloth merchants, merchants, weavers, quilt and blanket makers, wool combers, tailors, shoemakers, cobblers, tanners, saddlers, carpenters, blacksmiths, millers, bakers, butchers...
The importance of wool and linen weavers led to the birth of the textile industry at the end of the 19th century and beginning of the 20th, also favored by the arrival of the railway in 1860. The relay in this vitality, traditionally linked to commerce, agriculture and livestock, has been taken over by the considerable industrial implantation, which occurred essentially throughout the 20th century, erected in recent years as the main engine of the local economy, complemented by the dynamism of the commercial sector and the strength of services.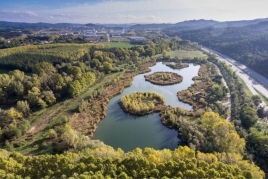 27/05/2023 - 28/05/2023 ...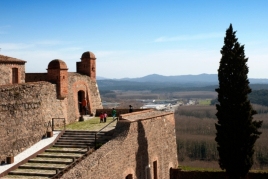 28/05/2023 ...

Weather forecast
28-05-2023
Morning
Evening
Max 26º
Min 14º
29-05-2023
Morning
Evening
Max 26º
Min 12º