Route to the hermitage of Sant Cristòfol del Bosc in Llambilles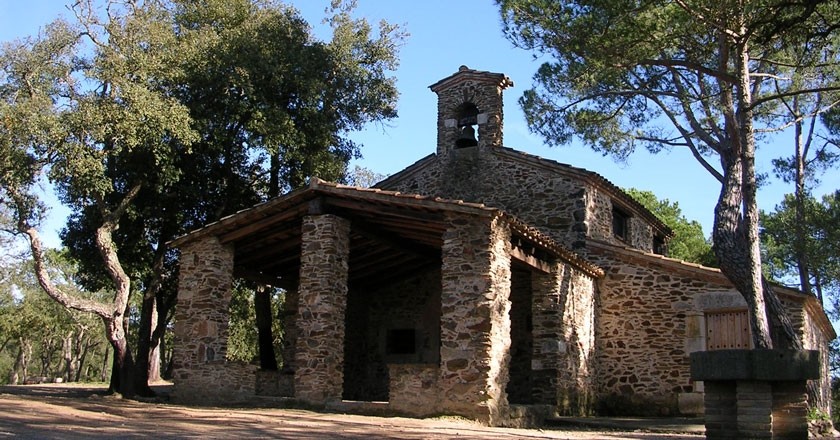 This itinerary in the municipality of Llambilles allows you to visit the hermitage of Sant Cristòfol del Bosc. The route is very representative of the different types of forests that can be found in the Gavarres: holm oaks, cork oaks, pine forests, chestnut groves and riverbank forests.
The total distance of the circular loop is 7.76 km, with a height of 164 meters.
At the height of the cemetery of Llambilles we leave the car and follow the road until we find the Arroyo del Bugantó that we follow until we find a small bridge that we cross.
Immediately afterwards we take a path to the right that continues closer and closer to the stream until it veers off to the left into the forest. A few meters we find a path on the right that we can deviate to visit the stone of thirty crosses.
This narrow path goes up in the middle of a dense forest of oaks and pines. Just over 250 meters away, we find this mysterious stone after slightly deviating to the right. Returning to the initial path, we continue until we find the source of Sant Cristòfol, a place where we can observe a good representation of typical riparian forest plants.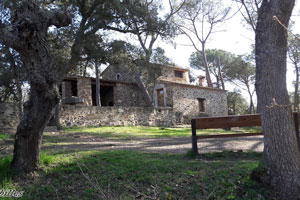 We follow the stream until we find a wide forest track that we climb to the left and take us to the hermitage of Sant Cristòfol. The contrast between the wet forest and dry forest is very clear in this itinerary. This church is already cited in 882 and its history is loaded with moment of splendor and various incidents. The current construction is of a single nave, with exposed stone and a semicircular apse. On the south wall there is attached the hermit house, quadrangular. The main door is protected by a portico and the work culminates a small belfry.
Around this church there is a recreational area. We take the forest track that goes to the right and about 500 meters we take the detour to the left which will soon descend to more open fields to go back up in the middle of forest.
We continue until we find Can Nino which is on the right hand side near the road and after about 700 meters we are in the middle of fruit fields on both sides and continue until we find again the Bugantó stream and the asphalt road from the beginning.
To return to the starting point, go to the right to the parking lot.
Source: Regional Council of Gironès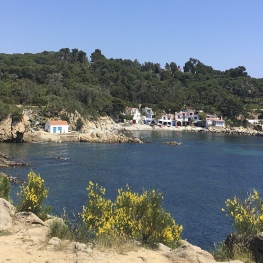 Albons (a

15.4 Km)
Discover Baix Urgell, a land that will make you fall in love…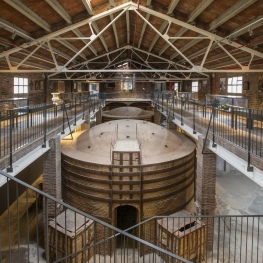 La Bisbal d'Empordà (a

15.7 Km)
The purpose of the Terracotta Museum of Ceramics is to preserve and…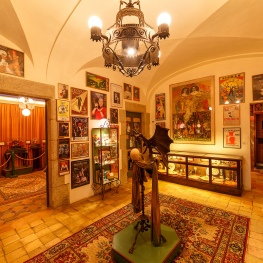 Santa Cristina d'Aro (a

16.7 Km)
Come and discover the Casa Mágica, where automatons, posters, magic devices from…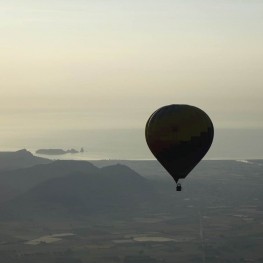 Colomers (a

17 Km)
Enjoy a balloon flight, a unique experience from the air with friends…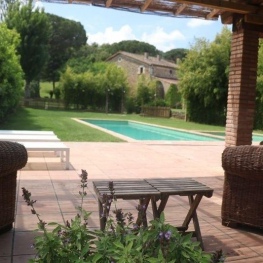 Celrà (a

10.9 Km)
Isolated farmhouse with capacity for 18 people and exclusive rental for a…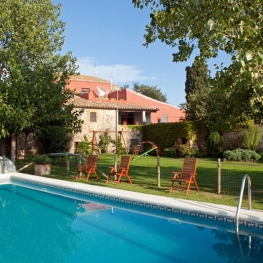 Cruïlles, Monells i Sant Sadurní de l'Heura (a

13.6 Km)
Isolated farmhouse nearly 3 kilometers of La Bisbal. The farmhouse, trying to…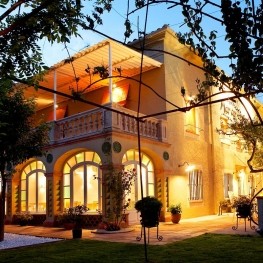 La Bisbal d'Empordà (a

15.3 Km)
Small and cozy hotel with a family atmosphere, located in an old…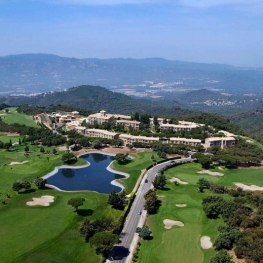 Castell - Platja d'Aro (a

16.7 Km)
Apartments in the Golf d'Aro resort on the Costa Brava; located in…