Experiència #APROP - Llet Nostra Cruïlles, Monells i Sant Sadurní…
Contact
visites@lletnostra.cat
Live the #APROP experience and discover everything that is hidden behind a glass of milk!
We suggest a guided walking tour of one of the Llet Nostra farms; a traditional, familiar and sustainable farm, but with all the necessary infrastructure and technology for research. A discovery itinerary through the different outdoor spaces that make up the EVAM estate.
During the tour, you will be able to enjoy an immersive audiovisual that will allow you to meet a farmer, a veterinarian and a researcher; and see the importance of their work in each case.
And to complete the #APROP experience, we invite you to enjoy a unique milk tasting and a delicious Llet Nostra dessert!
Limited places. It is necessary to make a reservation in advance.
Near you
Nearby means flavour, freshness and confidence. Because every time you drink a glass of Llet Nostra you are drinking 100% milk from Catalan cooperatives, collected very close to you.
From our farms it arrives at your home in a very short time, guaranteeing the best quality, all its properties and the unique flavor of natural milk.
Close to our farmers
Nearby means roots, effort and commitment, with people and with the territory.
With the commitment of the 215 family farms, which came together 13 years ago with a common goal, to give continuity to the Catalan dairy sector. Today, it is the young generations of these farmers who are committed to continuing the philosophy and know-how of their parents.
Close to our environment
Close means a few kilometers away, few smokes and commitment to the social, cultural and environmental surroundings. Because every time you buy Llet Nostra, you support a sustainable project.
Milk travels fewer kilometers and therefore less fuel is used in its transport, thus contributing to the maintenance of our environment.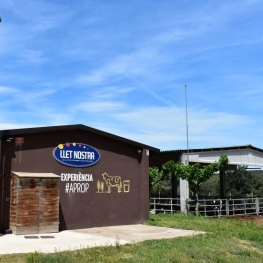 Experiència #APROP - Llet Nostra Cruïlles, Monells i Sant Sadurní de l'Heura
Next weekend of September 30 and October 1, we invite you to do a tasting of the #Aprop Experience; so you can learn about the visits we offer at the Llet Nostra…