Guided tour of the Crypt and Colonia Güell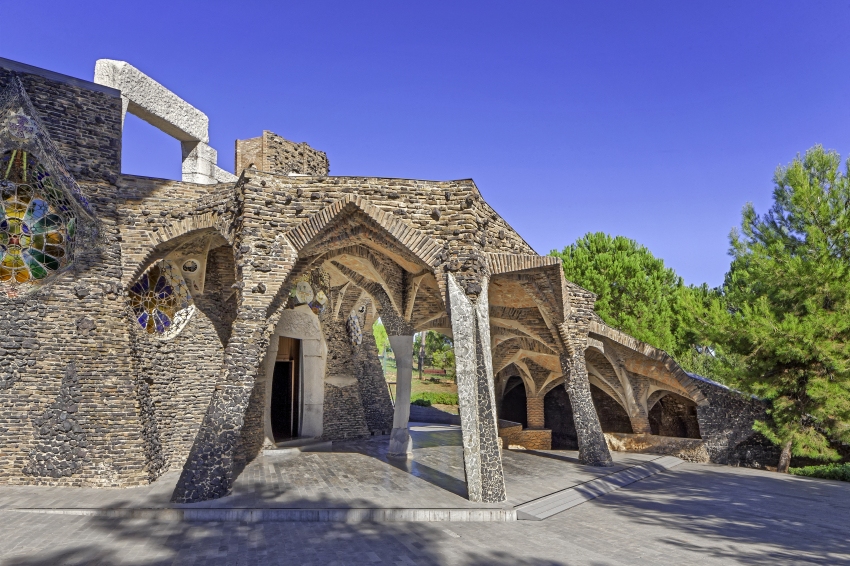 02/12/2023
03/12/2023
09/12/2023
10/12/2023
16/12/2023
17/12/2023
23/12/2023
24/12/2023
...
Cripta Gaudí
Santa Coloma de Cervelló
Visit the four spaces of Colonia Güell: Gaudí's Crypt, declared a World Heritage Site by UNESCO in 2005, Colonia Güell, declared a Site of Cultural Interest in 1990, the permanent exhibition, located in the former Colonia cooperative and Now, the guided tour of Colonia Güell also includes a visit to "Gaudí's garden".
Located at the back of the Crypt, this garden houses an exhibition of all those elements with which Gaudí intended to continue the construction of the church, but which never took their place due to the stoppage of the work.
Eusebi Güell, the businessman who founded the Colony, wanted to create an industrial colony where workers had access to education and culture, as well as single-family homes, unlike the dense apartment blocks common in other colonies.
As a patron of culture, he had the school, the teacher's house, the athenaeum, the Fontova theater, the church and the parish center built, conceived as buildings at the service of the people of the Colony. Architects belonging to the modernist movement took part in the construction of these buildings, some of them collaborators of Gaudí.
This led to the construction of unique buildings of great beauty, but also other buildings intended for workers that show how the master bricklayers were infected by the forms and techniques of the architects, exhibiting a wide sample of how to use brick in walls., facades, windows, and especially on the cornices.
Crypt was commissioned by Count Güell to Gaudí for the textile colony. In 1908 the construction of the temple began, of which only the crypt was developed. This represents a climax in Gaudí's creative work. It incorporates, for the first time in a unitary way, all of its architectural innovations, such as catenary arches, the use of exterior walls in the shape of hyperbolic paraboloids, the dynamic and fluid treatment of the interior space or the mechanisms of fusion between the building and the natural environment. innovations that he would later apply in the construction of the temple of La Sagrada Família.
We will wait for you!