Càmping les Preses Natura Les Preses
Contact
campingnatura@atma.cat
Camping Les Preses Natura, located in the Natural Park of the Garrotxa Volcanic Zone and in the Vall d'en Bas, is a welcoming facility for those who want to enjoy a privileged landscape; that prioritize the quality of the service, that value the personalized treatment and that enjoy being in a small and quiet, Les Preses , but close to Olot, capital of the region.
Environment
The environment is privileged: mountainous landscape with valleys and rivers that host small villages with rural charm. The Volcanic Zone of La Garrotxa and the Fageda d'en Jordà become memorable excursions. The historical heritage, from Romanesque to modernism, coexist harmoniously with farmhouses, hermitages, castles, or in whole medieval centers such as Santa Pau and Besalú.
In the city of Olot, in addition to modernist architecture, works of renowned artists emerged from the old School of Fine Arts. The Garrotxa Museum is a prestigious reference.
Rentals
The campsite has rental equipment for any season of the year:
Mobile homes (Mobilhomes) for 2-8 people, with 3 bedrooms, kitchen-living room with sofa bed, fridge, TV and equipment for cooking and eating. Washbasin, WC, shower and terrace.
Plots for tents, caravans, motorhomes.
Bicycle touring, mountain biking, electric and road bikes.
Excursions
Camping Les Preses Natura is located in an exceptional territory for excursions on foot, by bicycle or by vehicle. You can do it alone, with family or with friends. You can visit the most spectacular volcanoes, the Fageda d'en Jordà, the greenway, the Puig Rodó (viewpoint of the volcanic zone), the Puigsacalm (1,551m), endearing hermitages and villages with rural and historical charm.
We have information on the best itineraries to reach the place you have chosen. Bicycles are the queens of the territory: to pedal along the greenway of the Carrilet Olot-Girona route, sections of Pirinexus.
Dozens of flat routes (bicycle touring) or with some difficulty (BTT).
If you are a road cyclist, we have emblematic routes that are stretches of La Vuelta or Tierra de Remences.
We offer more than 20 routes with tab and track, created for Camping customers.
Registration Number in Tourism Register of Catalonia and Andorra: KG 30124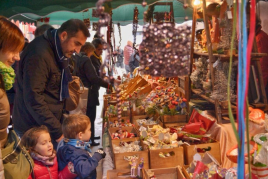 08/12/2023 - 10/12/2023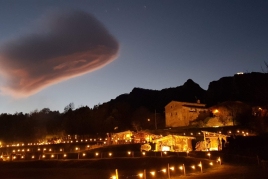 25/12/2023 - 26/12/2023 ...