Province:
Lleida |
Shire:
La Noguera
|
Inhabitants:
16.766 |
Extension:
57,3 Km2 |
Altitude:
233 m
Balaguer is the capital of the region of La Noguera, which in turn is the largest region in the entire Catalan territory.
Balaguer has its origins in the arrival of the Arabs in the peninsula, becoming one of the main cities in the area in the s. XI under Andalusian rule, to later become a historic city in the County of Urgell. Its history and monuments are the result of its geographical location, since Balaguer is an open door to the Pre -Pyrenees and dominates the Segre River. In addition, the use of fertile land and the construction of basic infrastructure networks for life, such as ditches or roads, were essential for the development of the area.
From its history, a series of witnesses have remained that allow us to know what the city of Balaguer has experienced. Thus, we highlight the church of Santa Maria, which has become the identifying symbol of Balaguer, since it dominates the city from its highest peak and which was declared a Historic-Artistic Monument. We also find the Pla d' Almatà, which is a large expanse of land where the first Arabs settled in the area and which today shows us, as a site, its urban fabric and the daily life of its inhabitants. This site was declared a Cultural Asset of National Interest in 2006. Near Pla d' Almatà we find the current Sanctuary of Sant Crist, which was the old Aljama mosque, and was later converted into the Romanesque church of Santa María de Almatà. This architectural complex includes the church, the convent of Poor Clare nuns, the rectory, a hostelry and a restaurant. Right in front of this architectural complex we find the remains of the Formós Castle or Palacio de la Suda, which was not only a place of defense, but also a stately residence.
The current historic center developed from the s. IX, with successive extensions that we see reflected in the walls that surround it. In this way, Plaza Mercadal, which is considered the largest arcaded medieval square in Catalonia, was configured from the 14th century. Near this square we will also discover other interior squares and the old public laundry, known as " La Reguereta ". On the other side of the Mercadal, the old Jewish quarter was formed, where the Museo de la Noguera is currently located, one of the most important museums of Islamic art in Catalonia. Also noteworthy on the other side of the River Segre is the monumental complex of Sant Domènec, which is made up of the church, the cloister and the old quarters of the monks, which are currently in a geriatric residence.
Within the framework of the Harpia, medieval Balaguer, discover the bars and restaurants attached and try the proposals of Mosadas Medievales! In this medieval…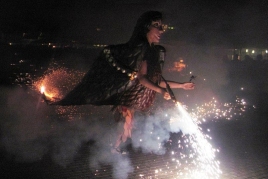 02/06/2023 - 04/06/2023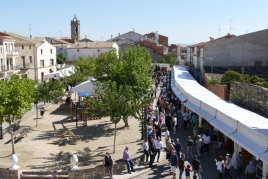 04/06/2023

Weather forecast
04-06-2023
Morning
Evening
Max 29º
Min 15º
05-06-2023
Morning
Evening
Max 29º
Min 15º