L'Estany - Casa de Fusta Amposta
Partida de l'Encanyissada (Casa de Fusta)
Amposta
Contact
info@restaurantestany.com
The restaurant follows three lines: Culture, Gastronomy and Tradition.
It has a main dining room seats up to 90-100, the cafeteria for 40-50 people and the Cabin, built with basic materials used originally: reed, mud and straw, with capacity for 100 people, ideal for corporate groups, schools, conventions or celebrations.
They have parking, rv and coaches. Playground, wifi and celiac menus and groups.
Other Contact Phone: 659 19 40 34
Gastronomy:
The dishes we have, have been inherited from their ancestors, based on the popular cuisine, made with fresh, high quality: the sea, paddy fields, the garden and the lagoon.
Recommend: tench eggs, Muixarra marinade, sauce marinated eel, sea nettles, chapadillo eel.
And typical dishes: Rice Seixat Estany, Black Rice, Noodles, creamy rice casserole duck.
And fish: sea bass in salt crust, the Basque Angula, Zarzuela of fish or squid with garlic and habitats.
And finally the homemade desserts: Menjar Blanc, borage honey, bread with wine and sugar, Crema Catalana, tasting cakes, ...
And all with a wide range of wines with denomination of origin.
The Mas de la Cuixota:
It's the playful restaurant that offers all its customers. They offer bike rentals, bike cars, tandems. Trail perch boats along the canals and lagoons of the Cuixota.
And canoeing trips for kids pedal cars in your circuit.
Traditional Festivals:
Planted Festival is held the first Sunday in June, where the farmers come with their cars and rice planted manually.
Feast of the harvest is celebrated the first Sunday in October and that the reapers show how collected rice, separating the wheat from the chaff.
These parties are enlivened with Charanga Suc d'Anguilla and Guardet singer, shares "Drunk cooking" to all attendees and carriage rides in them.
Location:
The Timber House Restaurant is located in the Natural Park of Delta del Ebro, facing the Encanyissada Lagoon, surrounded by flora and fauna of the area.
If you go from Girona, Barcelona, ??Tarragona and Reus on the AP-7 or N-340, exit 41 Amposta - San Carlos de la Rapita.
If you go from Lleida and Zaragoza by the AP-2 to Tarragona and bind to the AP-7.
If you go from the south, Valencia by the AP-7, same exit 41, direction Amposta, once the bridge, the first exit for Sant Jaume d'Enveja, until you reach a roundabout and take the direction of l 'Encanyissada or Poble Nou del Delta.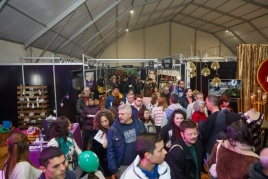 06/12/2023 - 09/12/2023