Route at the foot of the Gavarres in Madremanya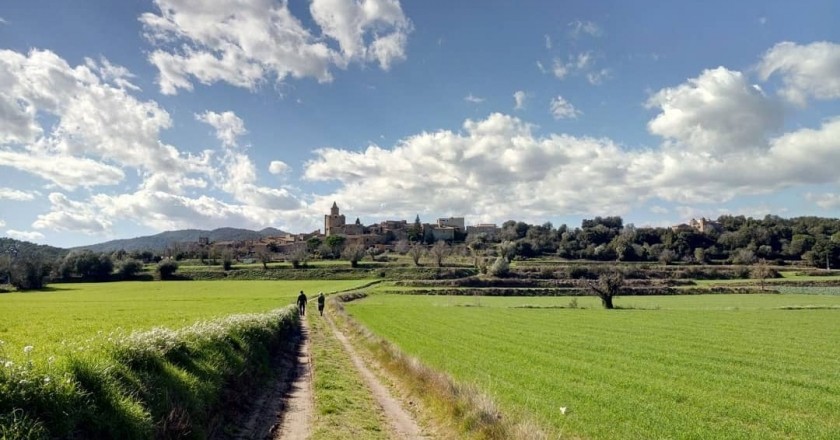 Join us through a pleasant and easy walk through the plain that surrounds the charming little village of Madremanya. The distance of the route is 7.5 km, with 103 meters of altitude difference.
Let's go!
At the entrance of the town of Madremanya (if we come from Sant Martí Vell on the left) we found a small parking space where we started the walk. We went up the street of Sant Esteve that allows us to appreciate the authentic character of the town.
At the top of the street there is a square and through a corridor we reach the church square. Through these streets we see traditional turns, facades, narrow and tortuous streets, portals, windows or the same parish church of Sant Esteve, which with its bell tower are one of the most representative images of Madremanya.
We continue along the same street until we reach the avenue de las Gavarres that takes us to the exit of the town. Right here, we cross the road of La Pera and next to a selective collection area, we take a path that goes down through the fields and that had been an old Roman road.
We continue until we reach a wooded area where we enter to find a detour that goes down to the neighborhood of Millars, which we soon see in the middle of the fields in a lower area. We cross the nucleus of Millars observing its church and castle and take the asphalted road to the left and follow it until we find the detour to the left and make a climb until we find again the road to La Pera (GIV-6425). We continue to the right until we find a light transformer station at a crossroads.
We take the dirt road of the middle, wider, which crosses cultivated fields and we pass through a vineyard, which is on the right, until we find the remains of an old mill, about 800 meters. Here we turn left following a wooded area until we find another path that goes back to the transformer station and from there we take the asphalted road to the Pedró neighborhood.
We cross half of the houses of the neighborhood, where you can admire its architectural beauty and you will also find a cross of Term, which links the municipality with the Via Augusta. We continue straight until we reach the center of the village of Madremanya.
Source: Regional Council of Gironès