Cim d'Àligues Sant Feliu de Codines
Contact
info@cimdaligues.com
Center specialized in raptors.
The flight session and the guided tour of the bird zone are the two main activities of Cim d'Àligues.
The guided tour consists of an explanation of about 30 min. in the area of ​​aviaries. This allows us to introduce general concepts about these birds such as; type of feeding, behavior, autochthonous species, habitats that occupy, etc.
The flight session lasts approximately 45 minutes. The experience of seeing them at a distance allows a good knowledge of these animals.
Located in outdoor stands, on top of a cliff, we will observe them closely: making flights from fist to fist with the caretakers, flying over our heads, or moving away towards the valley that lies ahead. All this happens accompanied by an explanation that highlights the differences between the species.
The flight in freedom without fleeing, is possible since these birds were born in captivity and from small have been in contact with people.
The entrance to the site includes attending the guided tour and the flight session. We also have a small forest to walk, picnic areas and restaurant if you want to spend all day.
On weekends and holidays, with the same ticket, you can enjoy the two flight sessions and guided tours (morning and afternoon), which are different from each other.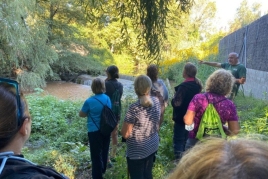 01/10/2023 ...

13/10/2023 - 15/10/2023