Càmping el Solsonès Solsona
Carretera Sant Llorenç, Km 2 Direcció Lladurs.
Solsona
Camping El Solsonés offers a variety of bungalows fully equipped wooden caravans and spacious pitches for caravans or mobile homes.
It also has new expanded facilities:
Great new adult pool and children's pool opened in July 2013.
Playground for the little ones to play and have fun outdoors.
Padel, squash courts, table tennis, mini-golf, Catalan bowling alley, mini-basketball, bike-cross, football field and track health.
Sell handmade, organic and kilometer 0 chickens, pork ribs and roasted rabbit products. Freshly baked bread and pastries.
Mini club with common playground for all children, a games room and workshops which make crafts. Free to all customers.
Parks and own to relax in a pleasant stroll gardens.
Multipurpose room where movies, events and meetings and all kinds of activities take place throughout the season
Service covered or uncovered parking caravans throughout the year.
With central underfloor heating, solar powered showers, water chemical toilet Disabled Services
Changes in water and overnight RV & GO SLEEP
In addition, there is also entertainment throughout the summer, winter holidays and nature activities for the whole family, concerts, contests, parties ... and more!
We can not forget that Camping El Solsonés is located in an environment that allows, from the property itself, all kinds of hiking and biking.
In addition, the Solsonès is an important landmark for the historic, cultural and wine tourism. This permits from the Camping El Solsonés organize group getaways and customized to enjoy each of these activities.
The site also has a fantastic restaurant.
Restaurant
Restaurant cuisine and traditional, kilometer 0, traditional and innovative dishes. Pairing. Menu, wine and grilled. Custom Plates and takeaway. Enjoy the summer terrace. Wi-Fi zone!
Themed menus during the Gastronomic Solsona and county, special carnival menus, etc.
The restaurant offers quality cuisine, healthy and local produce proximity to the Pyrenees. These dishes prepared by chef Jordi Guixe, maridan wines and champagnes of the regions in an exceptional way. From the earth to the plate and the palate.
For two years the restaurant offers the opportunity to participate in these special pairings, presented by the best wineries. Discover the cuisine, wine and conversation. Learn and enjoy the culinary culture and wine tourism Solsona.
Open Friday night, weekends and holidays from 8am. (Meals until 17 h / Dinner 20.30 to 23 h)
Registration Number in Tourism Register of Catalonia: KCC-000043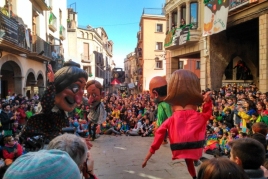 14/02/2020 - 16/02/2020 ...