Generator Barcelona Barcelona
Carrer de Còrsega, 373
Barcelona
Contact
barcelona@generatorhostels.com
Barcelona generator is a high - design hostel whose decor displays a mix of styles inspired by the city, combinandi traditional and contemporary compositions.
Its 728 beds are distributed in different types of rooms from multi - bed dorms, doubles with balconies and terraces to a penthouse on the eighth floor.
It has additionally has 6 multi - purpose spaces, distributed in different plants, developing events Tailor made for every occasion.
Additionally it offers a unique cuisine inspired by local products and flavors.
Registration Number in Tourism Register of Catalonia and Andorra: HB-004525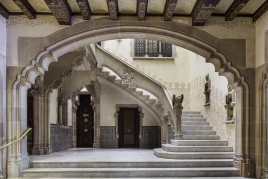 21/03/2023 ...