Province:
Girona |
Shire:
La Selva
|
Inhabitants:
4.332 |
Extension:
3,4 Km2 |
Altitude:
189 m
Declared an Asset of National Interest, the town of Hostalric preserves one of the most remarkable monumental legacies of medieval Catalan times and is dominated by the imposing castle of modern times.
The medieval precinct offers corners full of history and uniqueness. The spectacular wall stretches up to 600 meters and in its route you can find ten exceptionally well preserved towers. One of the most outstanding and totally accessible is the Torre de los Frailes, with a splendid viewpoint on the highest part.
The old medieval castle of the Viscounts of Cabrera is located on an outcrop of basaltic rock and maintained control over the royal road, halfway between Girona and Barcelona. From the seventeenth century began to transform to adapt to new times and new defense strategies of the modern era and had its leading role during the war of French. Through the Interpretation Center of the Castle you can take a trip back in time and know the functions and transformations that this monument has had throughout its history.
Hostalric enjoys an ideal location and a very good communication. The villa is located next to the river Tordera and is one of the entrance gates to Montseny. Girona and Barcelona are 40 and 60 km away respectively. And 30 minutes by car we have the main tourist centers of the Costa Brava.
Access by road can be done on the AP-7 motorway, with access to Hostalric or on the C-35 road. The Transversal Axis is just over 20 km from the municipality and the N-II approximately 15 minutes. The Barcelona-Portbou railway line passes through the town and stops, and the Girona Costa Brava airport is 30 km away.
The villa is surrounded by mountains with gentle slopes and magnificent views of the Tordera valley, in the Montseny and the Montnegre and becomes ideal to enjoy a fantastic environment for hiking and cycling.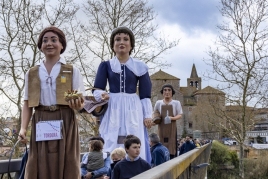 01/04/2023 - 02/04/2023

Weather forecast
22-03-2023
Morning
Evening
Max 22º
Min 6º
23-03-2023
Morning
Evening
Max 21º
Min 8º