'Els enigmes d'en Pius', a family-oriented game in Plans de Sió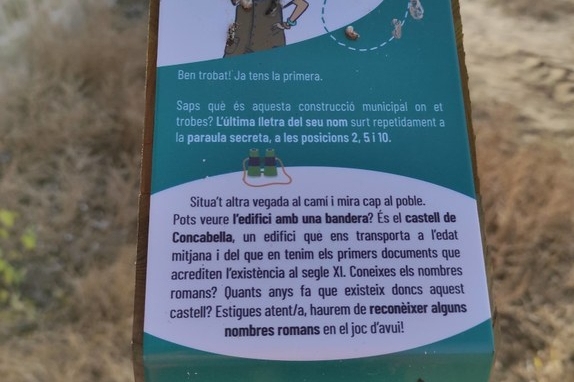 'Els enigmes d'en Pius', an orientation game to enjoy nature with the family in Plans de Sió!
In Concabella we have a new ecotourism resource for the family public. This is 'Els enigmes d'en Pius', an orientation game installed around Concabella (Plans de Sió natural space).
Guided by two fictitious characters, the Roc and the Blau, the visitors will have to find the beacons described on an interpretive map through small clues and solve the final secret word. The route is circular, suitable for both cycling and walking, and has a distance of 6 km.
The game, promoted by the Leader de Ponent Association within the framework of the Ponent Natural Areas project, has 5 more routes, which are installed in the drylands of Mas de Melons and Alfés, in the lake of Ivars and Vila-sana, at the Segre-Noguera Ribagorçana Confluence, in the drylands of Belianes-Preixana and at the Segre-Cinca Confluence.
These itineraries are intended, on the one hand, to encourage visits to spaces in an autonomous and enjoyable way, and on the other, to encourage respect for nature and, specifically, for the habitats and species that live in these natural environments.
With the promotion of this new ecotourism product, they have also wanted to make a commitment to avoid screens, which is why visitors are asked that, when they play, they do so only by following the indications described on each of the maps, since the routes They are designed and thought to be able to do them without the need for applications or mobile devices.
We wait for you!