Province:
Girona |
Shire:
Gironès
|
Inhabitants:
10.680 |
Extension:
45,2 Km2 |
Altitude:
137 m
Cassà de la Selva is a 'corchera' town located in a privileged natural environment, between the protected area of the Gavarres massif and Pla de la Selva. Located in a strategic point in the south of the Gironès region, Cassà is 14 kilometers from Girona and 20 kilometers from the Costa Brava.
The use of cork has marked and still marks the life of the municipality. Thus, in Cassà you can discover the journey that a cork makes from the tree to our tables. A journey that begins in the forest, in Les Gavarres, with the cork oaks and the shell of their bark, and ends with the companies that transform them into stoppers that store the best wines in the region.
Cassà is also a land of musicians. A rich musical tradition has developed since the 19th century, with several sardanista coplas that are still active today. This tradition is reflected in the multitude of concerts and songs organized throughout the year, such as the 'Solfejant', the 'Càntut' or the 'Nit dels Músics'.
The cultural offer is completed with various fairs and shows, among which the Stopper and Cork Fair and the Santa Tecla Fair stand out, as well as a rich architectural heritage that includes a medieval nucleus and small modernist jewels, also the result of the legacy of the cork industry.
Its position between two natural spaces of great wealth also makes the municipality a privileged point to discover the fauna and flora of our environment. From the cork oaks, pine forests, holm oaks and scrublands of Les Gavarres, a refuge for ungulates and carnivores, to the open spaces dotted with clippings of the plain forest, habitat for numerous birds.
Among this natural heritage, the flood-prone mowing meadows of Esclet stand out, a protected area that presents a characteristic flora and that is the habitat of various species of amphibians, and the public estate of Can Vilallonga, located in the Protected Natural Area of Les Gavarres, where you can discover the traditional activities linked to the forest and the land.
In addition, the greenways and trails that cross the surroundings of the municipality will allow you to discover all this natural and cultural heritage in a sustainable, active and respectful way with nature and with the people who live in the territory.
Enjoy the experience!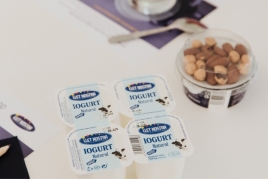 03/06/2023 - 04/06/2023

Weather forecast
04-06-2023
Morning
Evening
Max 26º
Min 13º
05-06-2023
Morning
Evening
Max 27º
Min 13º