Terra de comtes i abats Campdevànol, Gombrèn, Ripoll,…
Contact
reserves@terradecomtes.cat
Terra i Abats Comtes offers you a lot of proposals to discover the cultural and natural heritage of Ripoll, Sant Joan de les Abadesses, Gombrèn and Campdevànol, highlighting some of the most important medieval complexes in the country: the monasteries of Ripoll and Sant Joan de las Abadesses. We suggest you take a trip to the origins of Catalonia, and experience firsthand the history of this country considered the cradle of Catalonia and extraordinary characters.
Visits to major monasteries
Monastery of Santa Maria de Ripoll Monastery Interpretation Centre
The Santa Maria de Ripoll was founded by Wilfred the Hairy and is one of the symbols of Catalonia. It stresses the great cover, the two-storey cloister and the tomb of Wilfred the Hairy, among others.
To understand the history of the monastery, it is essential to visit before the Interpretation Center, located in the chapel of the Congregation, giving us the keys to understanding its historical significance.
Monastery of Sant Joan de les Abadesses Abbey and Palace
Also founded by Wilfred the Hairy was the first female monastery in Catalonia. The highlights are the remarkable sculpture of the Descent and the Gothic cloister. Next to the monastery, also visit the Palace of the Abbey.
Other visits and activities
They also offer a wide range of engaging activities for all ages:
In Ripoll you can visit the Ethnographic Museum, write with quill as did the monks in the Scriptorium, discover corners of the Old Village, visit the Farga Palau or take a bike ride on Route Iron and Coal.
In Sant Joan de les Abadesses you can make a nice stroll through the historic village or enter a flour mill to know how it worked.
In Campdevànol I propose a walk in the highway.
And Gombrèn, you can climb to the Sanctuary of Montgrony from where will enjoy spectacular views, meet the Mataplana iconic castle, or visit the Museum of Count Arnau.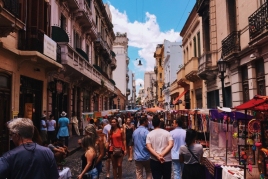 24/03/2023 - 26/03/2023