Two audio guides: Monastic Ensemble and Romanesque Cloister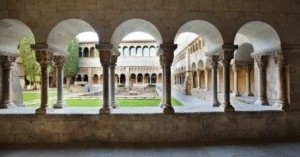 The two audio guides at only 6 euros, you can come whenever you want.
The Monastery of Sant Cugat is an exceptional complex, if you want to get to know it thoroughly and at your own pace, buy the two audio guides for only 6 euros.
With the audioguide Being the voice of the Monastery, you will discover the history and architecture of the most powerful monastic complex in the county of Barcelona. You will access the Church and enjoy its treasures and the Romanesque, Gothic and Baroque artistic styles.
The jewel in the crown is undoubtedly the Romanesque cloister. With the audio guide, the Medieval Stone Book, you will be able to interpret the meaning of 31 selected capitals. As if they were the pages of a book, we will tell you stories full of symbolism, customs of the Benedictine monks and some of the most important passages in the Bible, both in the Old Testament and in the life of Jesus.
When you arrive at the Monastery you have two options to listen to the audio guide:
You can use your smartphone with your headphones, you must download the audio guide through a QR code at the Monastery or rent an audio guide with disposable headphones.
cloister:
From Tuesday to Saturday, from 10.30 a.m. to 1.30 p.m. and from 4 p.m. to 7 p.m. (from June 1 to September 30, open from 5 p.m. to 8 p.m.)
Sundays and holidays, from 10.30 a.m. to 2.30 p.m.
Church:
From 8 a.m. to 12 p.m. and from 6 p.m. to 8 p.m. (punctually modifiable schedules according to parish needs)
More information:
Tourist Office:
Pl. De Octaviano, 10
Main Portal of the Monastery
Telephone: 936 759 952
turisme@santcugat.cat