Hotel La Freixera Solsona
Carrer Santa Llúcia, 19 (nucli històric)
Solsona
Contact
info@lafreixera.com
La Freixera is a charming hotel on San Llorenç street in the medieval center of the city of Solsona (Pyrenees). The building was a 14th century artisan house that the owners, Remei and Joan, transformed into a modern and comfortable 4 star establishment, conserving the Gothic structure with arches and stone walls, wooden floors, gallery of arches, cistern des where the water is born and the Gothic patio with archaeological remains in the open sky. The set has been declared, by the city council, well of cultural interest of the historic core of Solsona.
The rooms at La Freixera are all different and combine the old stone structure, with modern and functional finishes. They have a balcony on the outside and are equipped with large 180x200 beds, bathroom with shower and hairdryer, heating generated by biomass, air conditioning, flat screen TV, wifi, telephone, mini-bar and safe.
We recommend staying in the Pineda, special room for the exit of exterior arches and the heat of the fireplace. We also recommend the Freixera, room set , porch and private garden. Also, the Lledoner, medieval estancia that preserves the old kitchen with the sink, the fountain and the original paintings. Under cover, l'Alzinar the room for the family, with three rooms: the hall, the desk and the bedroom. In the newest part of the hotel we recommend the Moixera, spacious, bright room with a bathtub to relax.
Environment
Solsona is the best preserved medieval walled city in Catalonia. We recommend the patrimonial complex of the Cathedral of Santa Maria, the regional museum and the Palau Episcopal where the Romanesque, Gothic, Baroque and Neoclassical styles are mixed. Stoned streets, squares with fountains, old and modern shops, and market on Friday. The whole city will welcome you hospitably and the bars and restaurants with the table set with the best of mountain gastronomy.
The Solsonès, a tourist region unknown , is the geographical center of Catalonia and the gateway to the Lleida Pyrenees where you can discover and enjoy nature in its purest form and the landscape of light, rural gastronomy, snow sports and mountain, monasteries and the jewels of Romanesque (Sant Esteve d'Olius) and the most important Baroque (Santuario del Miracle) of Catalonia.
Registration Number in Tourism Register of Catalonia and Andorra: HCC-000797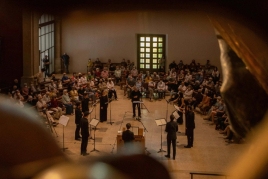 10/06/2023 - 11/06/2023 ...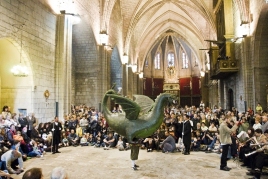 08/06/2023 - 11/06/2023