Celler Baronia de Vilademuls Vilademuls
Can Maura, 2, 17468 Parets d'Empordà
Vilademuls
Contact
info@cellerbaroniadevilademuls.com
Wine tourism at the Baronia de Vilademuls Winery
Baronia de Vilademuls offers you the possibility of living an unforgettable experience.
Come and visit our vineyards and winery and take a two-hour visit, followed by a tasting of our wine and typical sausages of the region. A highly recommended experience that will allow you to enjoy nature and the secrets of winemaking.
Throughout the stays of the winery you can go over the entire process of making quality aged red wine.
You can see walking through our facilities how the boots and bottles happen in a series of small rooms formed by walls of old stones, some of which with an origin that is lost in feudal times. You will also be able to see all the necessary material for the wine-making process.
Finally, you will visit our room prepared only to enjoy the pleasure of tasting our product in a place full of emotions and good sensations, living the story behind it live and direct.
You can also visit our exhibition of some important documents of the house, such as the first dating from the time of Felipe V to 1813, the year in which the house passed into the hands of the Aulet family. And as a good country house you can also discover some old tools.
We organize guided tours on Wednesdays, Saturdays and Sundays from 11.00 am to 1.00 pm, with prior confirmation by phone or email, and the price is 7.00 euros per person.
Important: Throughout the year visits will be attended in Catalan, Spanish and French and on weekends and the months of July and August, also in English.
The Baronia de Vilademuls Winery
The winery is located in Can Maura, one of the houses that make up the nucleus of Parets d'Empordà, where the Parets castle once stood. In the background, the Mare de Déu del Mont, the Salinas and the Alberes, with the Canigó on the other side of the border.
The visit to our winery surprises for its medieval rustic construction and includes different departments formed by walls of old stones, some of which surely have an origin that is lost in feudal times. You can visit a series of small rooms, from the wine making, through the storage in the traditional oak casks, to the preparation of the final bottle.
An old family dedication to the cultivation of the vine has been recovered to turn it into a hobby that has led to the production of its own wine.
In 2008 some 1,200 bottles were produced, which became 2,300 two years later.
At the beginning, it began to be sold in small circles, local and regional collaborations, in order to expand the product's sales network over time.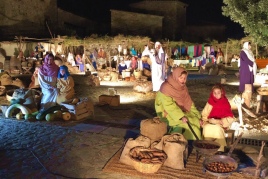 18/12/2022 ...

17/12/2022 - 18/12/2022